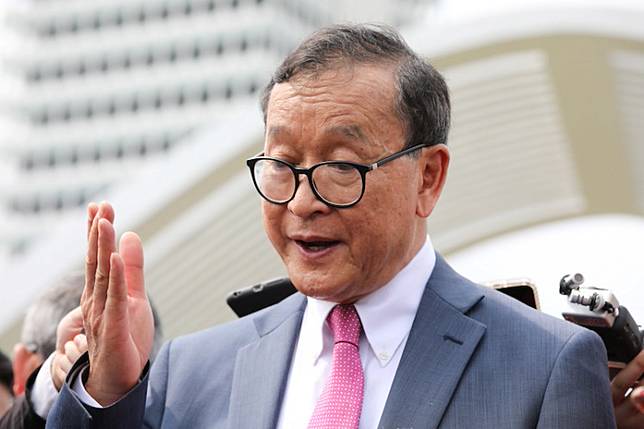 President Joko "Jokowi" Widodo should not hesitate to help Cambodian people in restoring democracy despite objections and possible threats from Prime Minister Hun Sen against dissidents. Two decades ago, Indonesia was in the front line to rescue Cambodia from the prolonged brutal civil war. Now it is time to act as a sincere friend again.
Hun Sen and the Cambodians definitely still remember Indonesia's pivotal role in brokering effective peace for Cambodia two decades ago. However France, as the permanent member of the United Nations Security Council later at the final moment on Oct. 23, 1991, hosted the Paris Peace Conference on Cambodia.
PM Hun Sen—the world's longest serving prime minister and head of government – heavily owes Indonesia, because the tireless and honest efforts by then president Soeharto and his two foreign ministers – Mochtar Kusumaatmadja and Ali Alatas – had directly or indirectly helped him to become defacto and dejure prime minister of Cambodia since 1985. Hun Sen turned himself from a puppet of Vietnam to a leader who was elected, as he claimed, through fair general elections.
Indonesia had hosted many meetings to bring the warring parties in Cambodia to negotiation tables in Jakarta, Bogor and other places. The Cambodian leader would still remember the meetings in various formats like the Jakarta Informal Meeting (JIM) I and II in 1988 and 1989 respectively, and the earlier "cocktail party". Other countries also tried to help the Cambodian people of course,such as Australia and Japan.
Vietnam invaded Cambodia on Dec. 25, 1978 to topple the Chinese-backed brutal Khmer Rouge regime and put Hun Sen as its puppet government in Pnom Penh. Hun Sen himself was a former Khmer Rouge officer who later fled to Vietnam after internal conflicts. He became the enemy of the Pol Pot regime which had butchered hundreds of thousands of people, often remembered as the Killing Fields.
The Paris Peace Conference was co-hosted by Indonesia and Paris on Oct. 23, 1991, officially ending the Cambodia-Vietnam war. To ensure the implementation of the agreement, the United Nations Transitional Authority in Cambodia (UNTAC) was established in 1992.
Right now there is the same call for Indonesia to act as an honest peace and democracy broker for the country, again. President Joko "Jokowi" Widodo should be firm in Indonesia's fundamental, consistent commitment to the people of Cambodia though he could be flexible regarding technicalities.
The self-exiled Cambodian opposition leader Sam Rainsy reportedly arrived in Jakarta on Thursday after staying in Kuala Lumpur for a few days, where he met with lawmakers from both the ruling and opposition parties on Tuesday. The president of the Cambodian National Rescue Party fled to France in 2017 to avoid house arrest by the government.
Another opposition figure, Mu Sochua, also accompanied Sam Rainsy in Malaysia. On Nov. 6, Cambodia's Ambassador to Indonesia Hor Nambora failed to physically prevent Mu Sochua from addressing a press conference in Jakarta. "As a criminal and fugitive, I will not allow her to speak and damage my government's policy," the ambassador insisted, but to no avail.
It would be extremely scandalous if Jokowi, as a friendly neighbor of Cambodia, bows to its government's threats and pressures. Hun Sen should remember that Indonesia has a proven track record of affection for his country. It is understandable that in his place, no rival or opposition would be tolerated, just like our previous authoritarian ruler. But should a more democratic Indonesia bow to such a dictator-like attitude?
The Cambodian leader, who once expressed his wish to rule his country until his death, has repeatedly warned other ASEAN leaders of the non-interference principles of the regional grouping. Less democratic members of ASEAN will always stick to the rigid principle of non-interference. When we know of massive detention of dissidents next door, just because of different political views, should we keep feigning ignorance?
Kompas daily quoted Singaporean Foreign Minister Vivian Balakrishnan as reminding ASEAN members over the non-interference rule. When asked by the newspaper's reporter in Singapore on Wednesday over the return of Cambodian opposition leader, the minister cited the old mantra. "Be careful. Each state has its own system which is different from one and another," said Balakrishnan.
Jokowi did not raise any objection when Singapore's PM Lee Hsien Loong met with his presidential contender Prabowo Subianto in Singapore on Nov. 26, last year. Prabowo was in Singapore to address The Economist's "The World in 2019" Gala dinner during Indonesia's presidential campaign period. Jokowi also met with Lee separately.
Under Soeharto's era, such a meeting would have raised a diplomatic row. But Indonesia is now a democracy despite flaws. Another extreme example is the fate of the Rohingyas in Myanmar, which is no longer its domestic problem. We cannot tolerate genocidal practices against the minority Muslims.
Non-interference does not mean we have no right to help neighbors in trouble. The obsolete, rigid adherence to the principle is tantamount to accepting violence and human rights abuses by our neighbors
So should Indonesia treat Hun Sen's enemies as our enemies too? As long as his opponents use peaceful and orderly ways in expressing political aspirations, Indonesia, as ASEAN's largest and most democratic member, should always seek constructive engagement to promote democracy and basic human rights. It does not mean we are perfect.
Foreign Minister Retno Marsudi should convey to the Cambodian people, preferably in front of President Jokowi, that Indonesia is ready to offer our help once more to ensure democracy will prevail in Cambodia, while we always respect their sovereignty.
***
Senior editor at The Jakarta Post