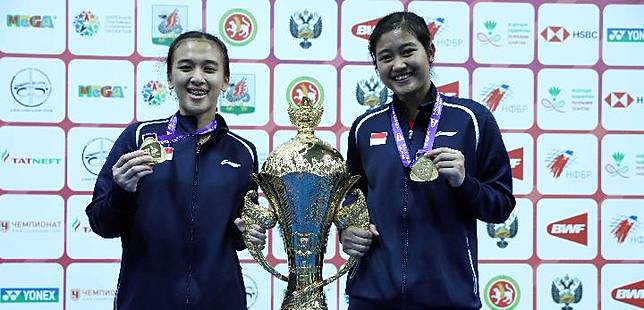 TEMPO.CO, Jakarta - Indonesia's Badminton women's doubles pair Febriana Dwipuji Kusuma/Amalia Cahaya Pratiwi advanced to the BWF World Junior Championship (WJC) 2019 in Kazan, Russia, on Sunday
The Indonesian duo moved to the finals after outclassing China's second seeded pair Li Yi Jing/Luo Xu Min in the semifinals 21-17, 23-21.in 52 minutes on Saturday
"Today we played with many drive shots. If we played with rallies our opponents would be pleased with them. For instance, we always hit the front balls with more pressure. We have studied their play and motion," Febriana was quoted as saying by the official website of the All Indonesia Badminton Association (PBSI)
"While competing (in the semifinals) we did not think of win or loss. What is important, we continued to struggle so we could play freely. We are pleased to move to the finals. We are moved by it," she said.
Febriana/Amalia, Indonesia's third-seeded duo will play against China's fourth-seeded pair China Lin Fang Ling/Zhou Xin Ru in the finals on Sunday .
"Actually, we must be ready to play with anybody. If we meet Chinese pair their badminton play is more or less the same as that of our opponents today. We played with many drive shots. In essence,. we must be more prepared than they (Lin/Zhou) are," she said.
ANTARA