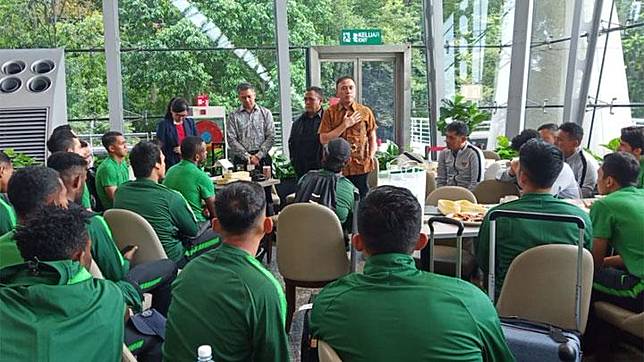 TEMPO.CO, Jakarta - Football Association of Indonesia (PSSI) chief Mochamad Iriawan today met with the president and secretary-general of the ASEAN Football Federation (AFF) in Malaysia ahead of the match of the 2020 FIFA World Cup Qualifiers between Indonesia and Malaysia at Bukit Jalil Stadium, Kuala Lumpur, tonight, Nov. 19.
Last week, PSSI visited the Asian Football Confederation (AFC) president and sec-gen.
During the informal meeting, Iriawan, who was accompanied by PSSI deputy chief Iwan Budianto and sec-gen Ratu Tisha Destria, conveyed the association's willingness to enhance the partnership and the development of football in ASEAN.
In response, the AFF president Khiev Sameth accompanied by his sec-gen Winston Lee congratulated Mochamad Iriawan for the latter's appointment as the new PSSI chief and the new management of PSSI. Sameth also welcomed the PSSI's intention, saying that Indonesia played a huge role in the AFF.
The country's roles were proved by the presence of the PSSI delegations in every meeting of AFF. Ratu Tisha even serves as the AFF vice president now.
Indonesia had also hosted many tournaments of the AFF. Starting next year, Indonesia was mandated again to host four competition events consecutively from 2020 to 2022.
The four events are the first U-19 Women Championship in 2020, U-16 Women's Championship in 2020, U-15/U-16 Championship throughout 2020-2022, and U-18/U-19 Championship in 2020-2022. The mandate was delivered during the 2019 Awards Night in Hanoi, Vietnam, November 8.
HARI PRASETYO | PSSI.ORG