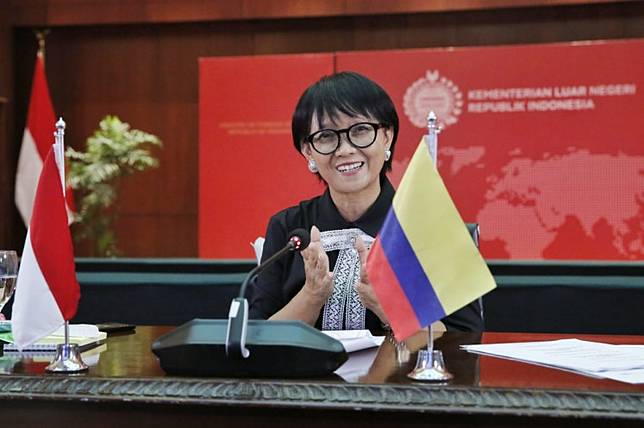 Indonesia and Colombia have expressed commitment to enhance bilateral ties as the two countries' representatives inked a visa exemption agreement for regular passport holders in an effort to improve the tourism sector after the coronavirus pandemic.
Foreign Minister Retno Marsudi signed the agreement with her Colombian counterpart Claudia Blum de Barberi during their first virtual meeting on Wednesday, which was held to commemorate the 40th anniversary of diplomatic relations between the two countries, which will fall on Sept. 15.
"The visa-free agreement signed [on Wednesday] is expected to increase the number of tourists when the COVID-19 pandemic ends," the Indonesian Foreign Ministry said in a press statement on Thursday.
According to the ministry's data, a total of 6,304 Colombian citizens visited Indonesia last year, an increase of 15.7 percent from 2008.
Besides the agreement, Retno and Barberi also signed a memorandum of understanding (MoU) on political consultation between the two countries' foreign ministers.
The signing of the MoU complemented the Joint Commission Session, first held in Colombia's capital of Bogota in 2013. The ministers agreed on holding a Joint Political Consultation and Commission this year.
Read also: Indonesia, Colombia seek increased trade connectivity
Both foreign ministers also agreed to increase trade and investment between Indonesia and Colombia as part of cooperation for post-pandemic economic recovery.
Colombia was Indonesia's sixth-largest trading partner and second-largest investment partner in South America last year.
The two countries' trade volume stood at US$152.8 million in 2019, according to the ministry. However, the number was still considered low when compared to other countries in the region.
Connectivity has served as a hindrance for the two nations to intensify economic interactions, but the repatriation of about 366 Colombian citizens from at least 19 countries on a special Garuda flight from Jakarta in May -- the first direct flight made by an Indonesian airline to Colombia -- has boosted optimism for improvement.
"I would like to express my gratitude for our cooperation in the repatriation of Colombian citizens from various Asian countries via the humanitarian flight," Barberi said as quoted in the statement.
During the meeting, Retno and Barberi also discussed several efforts to further enhance regional and global cooperation.
Indonesia has requested Colombia's support to become an associate member in the Pacific Alliance and Colombia asked for Indonesia's support to accede to the ASEAN Treaty of Amity and Cooperation (TAC) and establish a closer cooperative relationship with the 10-member Southeast Asian grouping, the ministry said.