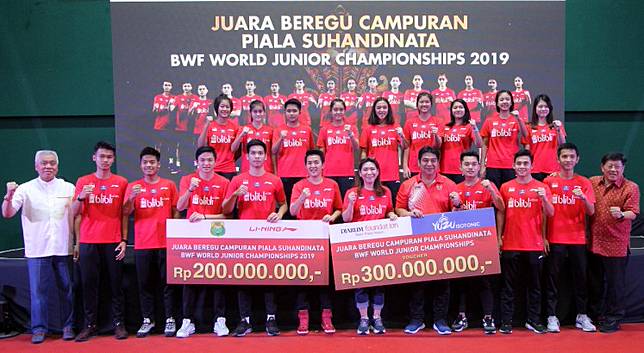 The Indonesian junior badminton team, who has just won a gold medal at the BWF World Junior Championship in Kazan, Russia, is being showered with cash bonuses by the Indonesia Badminton Association (PBSI), sponsors and the clubs where the shuttlers train.
The rewards were given out during the Superliga Junior 2019 championship held at the Djarum Stadium from Oct. 15 to 20 in Magelang, Central Java, where these junior shuttlers are currently competing.
"This is the solid evidence that the athlete scoutings are working very well. We need to continuously hone these youngsters' skills and strategies so they may achieve greater things in future arenas," the Djarum Foundations' sports director, Yoppy Rosimin, said.
The main sponsor for the athletes' equipment and apparel, Li Ning, gave Rp 200 million in bonuses to the squad. It also praised the same squad for its achievement getting the runner-up position at the Asia Junior Championship in July. Another sponsor, the Djarum Foundation, had also showered the team with Rp 300 million in cash rewards.
These youngsters were also given cash rewards by the clubs. PB Djarum, currently the country's largest club, presented its junior athletes who were members of the team with cash rewards as well. The men's pair of Leo Rolly Carnando and Daniel Marthin, who secured the gold medal after beating Di Zi Jiang and Wang Chang of China in the final, were given Rp 100 million in cash.
"My eyes are targeting the senior level right now. The only way to speak out loud about the senior level is through rigorous training and discipline," he said.
The club had also given Rp 50 million in cash to the mixed pair of Leo and Indah Cahya Sari Jamil over their silver medal achievement. Febriana Dwipuji Kusuma, another PB Djarum athlete who won silver, was given Rp 25 million as a reward.
Other badminton clubs, PB Mutiara Cardinal, had presented its athlete, Ammalia Cahya Pratiwi with Rp 25 million over her achievement when she paired with Febriana and won the silver medal. Yonathan Ramlie, who currently trains with PB Exist, had been given an additional reward of Rp 7.5 million for his achievement getting a bronze medal in Kazan.
PBSI didn't elaborate on the cash rewards that it planned to give.