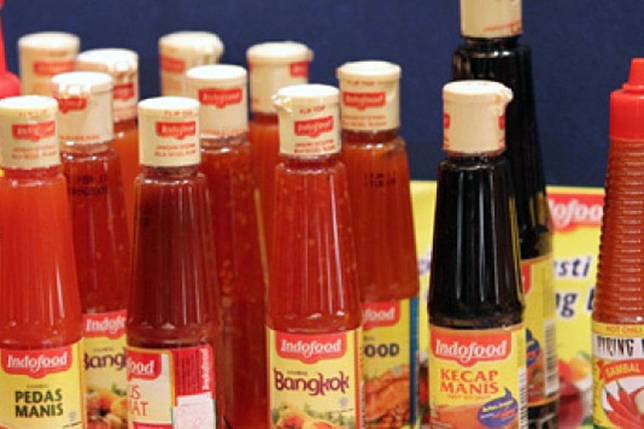 Food manufacturing giant PT Indofood Sukses Makmur and its subsidiary, processed food company PT Indofood CBP Sukses Makmur (ICBP), have managed to book double-digit profit growth in the first half of the year thanks to an increase in sales and a drop in production costs.
Indofood booked an 11.7 percent year-on-year (yoy) increase in profit to Rp 2.8 trillion (US$195 million) in the first half of 2020. The rise in profit during the period was in line with the firm's sales, which rose 2 percent to Rp 39.4 trillion, while cost of goods sold declined 1.2 percent to Rp 26.9 trillion.
Indofood president director and chief executive officer Anthoni Salim said Tuesday that the company managed to maintain a positive performance despite the global challenges caused by COVID-19.
"We expect this challenging situation to continue until the second half of the year, so we will continue to maintain supplies and product quality for our clients," he said in a statement.
Mirae Asset Sekuritas analyst Mimi Halimin said that she had expected the solid performance early in the year.
"Indofood's revenue in the second quarter of this year was quite resilient as it was supported by the recovery of its agribusiness segment," she said.
Read also: Consumer goods firms grow in Q1 amid economic crisis
Agribusiness sales rose 7 percent yoy to Rp 6.88 trillion from January to June. The relaxation of lockdown measures in several countries in the second quarter of the year boosted crude palm oil prices during the period, Kontan reported.
Although sales in the firm's wheat manufacturing segment, Bogasari, contracted 4.5 percent yoy to Rp 11.08 trillion, its consumer-branded product sales managed to record positive growth during the period.
Consumer-branded products, which include famous instant noodle brand Indomie operated by ICBP, recorded 4.15 percent yoy growth during the first six months of the year to Rp 23.05 trillion as the sale of instant noodles, the company's biggest contributor, increased 6.31 percent yoy to Rp 15.49 trillion.
The growing top line during the period, however, was mainly supported by its strong sales in the first quarter of the year as sales in the second quarter were slower, Mimi said.
"We note that ICBP's top line in the second quarter of this year also got hit by the sluggish economic activities due to the implementation of large-scale social restrictions (PSBB)," she said, adding that the company's revenue from March to June saw a quarterly contraction of 8 percent.
The PSBB were implemented in most regional administrations across the country as part of efforts to curb the spread of the coronavirus. The measures forced non-essential businesses to shutter their doors and saw millions face unemployment.
Despite the weaker sales in the second quarter, ICBP still managed to book Rp 3.38 trillion in profit throughout the first quarter, a jump of 31.4 percent yoy.
Anthoni, the former CEO of ICBP, said that the firm would also focus on maintaining the health of its employees and preserve product quality for its customers.
"We will also improve our ability to adapt swiftly to the ever-changing market dynamics," he said.
Read also: Investors wary of Indofood CBP's acquisition of noodle maker Pinehill
In the meantime, ICBP has announced that its shareholders have consented to its plan to acquire all of the shares of Pinehill Company Limited (Pinehill Group), which supplies Indomie to the Middle East, Africa and Serbia.
Corporate secretary Gideon A. Putro said in February that the company responded to its British Virgin Island affiliates, Pinehill Corpora Limited and Steele Lake Limited, on an offer to acquire Pinehill Group.
Pinehill Group's core business was manufacturing instant noodles in Saudi Arabia, Nigeria, Turkey, Egypt, Kenya, Morocco and Serbia under the "Indomie" brand licensed by ICBP's parent company, Indofood.
Indofood's share price, traded under the code INDF, had gained 4.44 percent to Rp 7,025 as of 2:38 p.m. on Wednesday. Meanwhile, ICBP's share price went up by 4.74 percent from the day before to Rp 10,500.