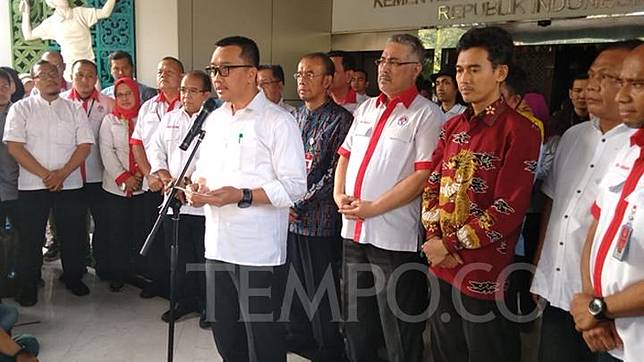 TEMPO.CO, Jakarta - Imam Nahrawi extended his apology to President Joko "Jokowi" Widodo and the public following his resignation as Sports and Youth Minister. The National Awakening Party (PKB) politician stepped down after the anti-graft agency KPK named him as a suspect in the corruption case at National Sports Committee of Indonesia (KONI) grant.
"I apologize to Mr. President, Mr. Vice President, PKB chairman, PBNU chairman, and the people of Indonesia. I also want to say my greatest gratitude to colleagues at the Sports Ministry," said Imam at the Sports Ministry office in Jakarta on Thursday, September 19.
Imam explained he wanted to focus on the corruption case entangling himself, therefore he stepped down as a minister, saying he wanted to prove the public that he was not involved in a corruption scandal as charged against him. He also asked all of the parties to uphold the presumption of innocence, adding that he was ready to undergo legal proceeding.
"We'll follow all the process," he remarked.
Previously, KPK named Sports and Youth Minister Imam Nahrawi as a suspect in KONI grant corruption case, along with his assistant Miftahul Ulum.
"KPK named two as suspects; IMR and MIU," said KPK deputy chief Alexander Marwata at his office on Wednesday, September 18.
Imam was believed to have accepted Rp14.7 billion from his assistant from 2014 – 2018. He was also believed to have accepted graft up to Rp11.8 billion from 2016-2018, which amounts to Rp26.5 billion.
IRSYAN HASYIM