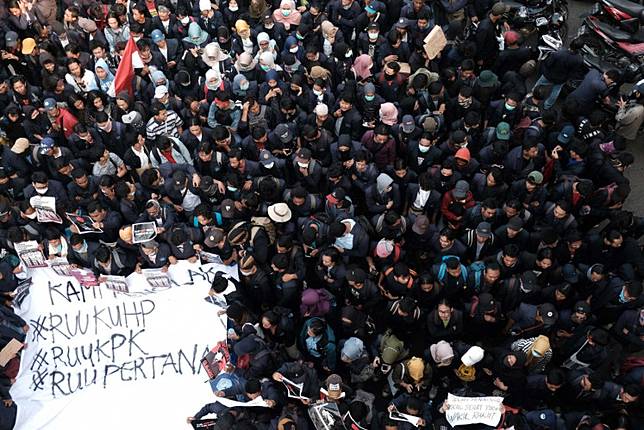 Today, I want to be young and in the streets again. Seeing pictures and videos of student protests in several cities in Indonesia has that effect on me.
I want to be 23 years younger and walk for a cause under the scorching heat of the sun, carrying posters defending democracy and civil rights and fighting against oligarchy. I want to feel that camaraderie again, that if students band together, we could change the world.
From 1994 to 1998, I was part of the student movement called "Angkatan 1998". I was one among thousands in Yogyakarta who left the classrooms and marched with my friends, all on our own volition, our own free will. No one paid us to do it. We really believed we had to do it for democracy, freedom of speech and human rights and civilian supremacy. Among our chants during that time were "Topple Soeharto! Stop military dual function!" and "Stop KKN!" – referring to corruption, collusion and nepotism.
I was also among the thousands of students who watched the 1998 poster boys take turns delivering speeches. Among them in Yogyakarta were Budiman Sudjatmiko and Andi Arief. Later I learned about other famous names from other cities: Pius Lustrilanang, Adian Napitupulu and Desmond J. Mahesa, who are now among our politicians.
Soeharto later quit in May 1998 and we were overjoyed. We thought the world was in our hands. We did it!
Later, I read some analysis that said we actually did not do it. The International Monetary Fund did it. Or the economic crisis did it. It was a blow to my ego, but the analyses made sense too. Looking back, of course I see there was much naïveté on our side.
Although I was not rich and neither were my friends, many of us at least got monthly stipends from our parents. Many of us did not have to find work for money. Those who did not get monthly stipends might work or borrow money from more well-off friends, but earning money was not our priority. In short, we were fueled by idealism.
With thousands of others we created "people power". We were quite powerful together, but we actually did not know anything about power and what it could do to people, what it could do to the very people who toppled power. Apparently, when they're in power, they copy their predecessors.
As I became older, I watched my own friends or acquaintances and the poster boys of Reformasi 1998 enter power. First, Andi Arief entered the palace during the presidency of Susilo Bambang Yudhoyono and Budiman became a politician with the Indonesian Democratic Party of Struggle (PDI-P). Pius, Desmond and Adian also entered political parties: PDI-P and Gerindra. Later, my senior at Gadjah Mada University in Yogyakarta, Ari Dwipayana, entered the palace under President Joko "Jokowi" Widodo.
Those who were against Soeharto's regime because Soeharto disrespected human rights are now silent when alleged human rights violations in Papua continue to happen. Some of them defended the revisions of the Corruption Eradication Commission (KPK) Law that practically defangs the KPK. Some even helped make the revisions happen, really fast.
These people, who were at the forefront of student protests against Soeharto, are now the ones behind the controversial law on the KPK and the planed revisions to the Criminal Code, which includes articles that could throttle freedom of expression.
The students who are in the streets now are up against these people, their seniors who had contributed to Reformasi in 1998. Called #ReformasiDikorupsi, the 2019 student movement is practically pointing fingers at their predecessors who were with me in the streets in 1998.
I remember interviewing the late Oey Hay Djun, a former Indonesian Communist Party (PKI) lawmaker in 2005. There was one moment when he quoted author Pramoedya Ananta Toer: "But, as Pramoedya puts it, we [the older generation] are finished; we are the failed generation. Let the younger generation continue the struggle," Oey told me.
Looking at the pictures and videos of the students, I am overwhelmed with shame and Pramoedya's statement rang in my ears. I feel so old and I feel finished. Let the younger generation continue the struggle.
Oh how I want to be young and in the streets again today.