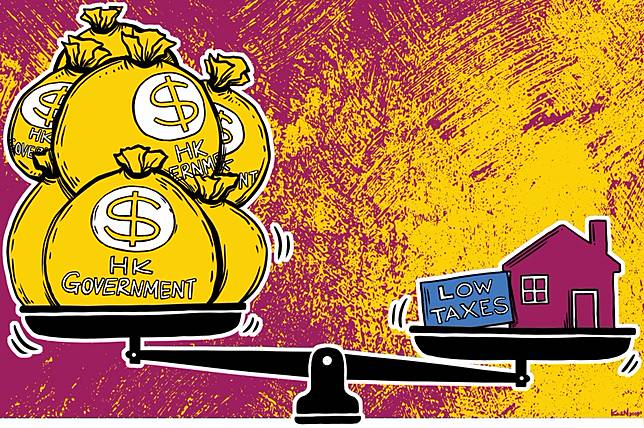 For two hours a day in the past fortnight, Edward Chan hung around after work at the Prince Edward metro station in Kowloon.
Teenagers continued to gather at the station, and Chan, who works in logistics, found himself acting as their counsellor, dispensing advice to the youth.
Hong Kong "is rotten to the core, with many issues affecting our livelihood, even if the city has a great international image on the surface", according to Chan, who lives in a 350 sq ft flat with his wife and their 13-year-old daughter.
Chan, 39, is among the tens of thousands of Hongkongers who have been expressing their collective grievances in street rallies in one of the world's most prosperous urban centres.
What began on June 9 as a peaceful march by an estimated 1 million people has deteriorated into mayhem on the streets, with police using tear gas and water cannons to disperse vandals and rioters in almost daily clashes with protesters.
The spark that ignited the city's worst political crisis has shifted from a controversial extradition bill to general rage against the local authorities for their ineffectiveness in addressing some of the most pressing issues affecting life in Hong Kong: housing, job satisfaction, education and future prospects.
Unaffordable homes, and having to wait a decade to gain access to subsidised public housing, are just two of the myriad of problems confronting Hong Kong, Chan said. "There really is no opportunity for young people at the bottom of the social structure to climb up," he said.
While he abhors the violence and vandalism that have made daily headlines for three months, Chan's comments go some way to explain why two weeks after Chief Executive Carrie Lam Cheng Yuet-ngor caved in to public rage and withdrew her unpopular bill, rallies continue to draw protesters by the thousands to the city's streets.
Hong Kong's economy has taken a beating, with declining property prices, shrinking visitor numbers and plunging retail sales all pointing to a technical recession in the final three months of 2019.
The unprecedented protests, entering their 16th week, are the culmination of many decades of neglect by a laissez-faire government of the underclass, and housing affordability has become the most poignant manifestation of this dissatisfaction.
The root of the problem can be traced back to Hong Kong's history, when British administrators created a low-tax system for the former colony, consistent with their strategy of running a worldwide empire. On the basis of low personal income and corporate taxes, with no value-added tax or import duties, Hong Kong quickly grew from a transshipment port and China's front door into an international finance centre. That low-tax tradition continued after Hong Kong's return to Chinese rule in 1997.
Low taxes come with a hefty bill, however, as the government must look for other sources of fiscal income to spend on infrastructure, education, health and public services.
For decades, the biggest revenue source was the sale of public land to developers for building homes, factories or shopping centres. Land premiums and stamp duties, considered non-stable tax revenue, are projected to make up 33 per cent, or more than HK$197 billion (US$25.2 billion), of the government's income in the financial year that began on April 1, down from the last financial year's 42 per cent.
"Without the big chunk of income from the property market, how can the government support its expenses?" asked Moses Cheng Mo-chi, chairman of the Insurance Authority and chairman of a 2000 task force set up to explore ways of broadening Hong Kong's tax base. "If we do not have new sources of stable income, the high land price policy will not change. We cannot get out of this" vicious cycle of high land prices, lack of affordability and public grievance, he said in an interview.
Of course, the government has denied over the years that it has a high land-price policy. The cost of land makes up between 60 per cent and 70 per cent of the total cost of a typical residential property project in Hong Kong, more than double the 20 per cent to 30 per cent range seen outside the city, said Far East Consortium International's managing director, Chris Hoong Cheong Thard.
The land sale process, where the highest bidder takes the prize, creates an upwards cost spiral, as the winning bid in one round becomes the prevailing market price, which must be topped in the next round. As land costs soar, small developers such as Far East - valued at one-36th of Sun Hung Kai Properties (SHKP) - are priced out of the city to build overseas.
That further concentrates the property market, along with the wealth and influence that come along with it, in the hands of a handful of developers.
About 45 per cent of all homes sold in Hong Kong are built by five developers - CK Assets of the Li family, SHKP of the Kwoks, Henderson Land of the Lee family, New World Development of the Chengs and Sino Land of the Ng family.
That has put them at the top of the wealth list. Eighteen, or 36 per cent, of the 50 richest people in Hong Kong in 2019 were property tycoons, according to Forbes.
"Capitalism creates a business environment where the winner takes all," said Ronald Chan, founder of investment firm Chartwell Capital and a member of the Hong Kong stock exchange's Listing Committee. "Several companies … dominate Hong Kong, consolidating control of sectors from supermarkets to pharmacies, jewellery stores to utilities and telecoms to transport networks."
The fortunes of Hong Kong's 93 wealthiest billionaires - estimated at US$315 billion in 2018 - made up about 86.6 per cent of the city's gross domestic product, according to Wealth-X's Billionaire Census.
The remainder of Hong Kong's population has become poorer, with a record 1.37 million residents living below the poverty line in 2017, eking out a living on as little as HK$4,000 (US$510) a month, according to government data.
The average Hong Kong household needs 20.9 years of income, without spending anything on food, education, travel or leisure, to afford a flat, according to the Demographia International Housing Affordability Study.
The average living space per person in Hong Kong is 161 sq ft, roughly the footprint of a standard 20-foot shipping container. That is half of Singapore's average space of 323 sq ft per person. The poorest of Hong Kong's families must put up with 50 sq ft of living space.
To be sure, Hong Kong's government has not been unaware of the problem. Former Financial Secretary Henry Tang Ying-yen and former Secretary for Financial Services and the Treasury Frederick Ma Si-han tried in 2003 to implement a goods and services tax based on the recommendations of Cheng's task force to broaden the fiscal income base, but had to scrap the plan amid opposition by the city's interest groups, who exert their influence through the functional and district constituencies in the local legislature.
Will the current political crisis and outpouring of rage provide an opportunity to break the policy gridlock and solve Hong Kong's housing problem?
Commentaries published last week by the state-run Xinhua News Agency, People's Daily and the stridently nationalist Global Times all singled out unaffordable housing as a cause of Hong Kong's street protests.
"For the sake of public interest, and for the sake of people's livelihoods, it is time developers show their utmost sincerity instead of minding their own business, hoarding land for profit and earning the last penny," People's Daily, the mouthpiece of the Communist Party, said.
A day before the commentaries were published, Hong Kong's biggest pro-Beijing political party pushed for the Lands Resumption Ordinance, and called on the local government to build public housing on land taken from private developers, who hold about 100 million sq ft of farmland between them, according to an estimate by Bank of America Merrill Lynch.
Hong Kong's government responded immediately by pushing ahead with a tax on developers who hoard completed flats to create an artificial shortage of homes.
Public consultation on the proposal started on September 13 and the bill will be ready for legislators to vet in October, when they return from their summer break. Land and housing policies are expected to be the focus of Chief Executive Carrie Lam's Policy Address, which will be announced next month.
Some developers are pushing back. The Real Estate Developers' Association (Reda), the powerful industry lobby, said on September 13 that the proposed vacancy tax would intensify a slowdown in the property market, hurt developers' earnings and exacerbate the city's economic slump.
"Can the government solve the city's housing issue on its own, without the help of private developers?" said Reda chairman Stewart Leung Chi-kin. "If that were the case, the problem should have been solved years ago."
Analysts said the low-interest rate environment in Hong Kong will continue and that could pressure Lam into cooling home prices.
On Thursday, the Hong Kong Monetary Authority, the city's de facto central bank, matched a move by the US Federal Reserve and cut its base rate to 2.25 per cent. But homeowners will not feel their burden ease immediately because commercial banks will keep their prime rate, the rate offered to customers, unchanged. That raises the spectre that declining home prices will hamstring Lam's reforms.
Hong Kong is not short of land, where 40 per cent of the city's land mass is reserved as nature parks. But focusing on land supply was akin to addressing the symptoms of a disease, not finding a cure for the cause, said the Insurance Authority's Cheng.
"We need government leaders, political parties, interest groups to realise the importance of harmony. They need to make sacrifices for the greater good, " he said.
A short-term solution might be possible through the privatisation of subsidised public housing, which would allow many existing public flats to add to the supply and provide immediate relief, said Richard Wong Yue-chim, professor of economics and the Philip Wong Kennedy Wong Professor in Political Economy at Hong Kong University.
"Turning public flats into home ownership flats is by far the fastest way to address our housing crisis without increasing land supply", because land reform was complicated by vested interests and bureaucratic delays, as well as restrictive planning and building codes, he said.
"Home ownership is a source of savings and wealth accumulation. There is wealth disparity between those who own a flat and those do not, so people feel the inequality," Wong said. "When young people see no hope of moving forward with their lives, no hope to own a home, they take to the streets."
Singapore, a city state where most residents live in high-rise buildings, may offer a solution for Hong Kong. The city state's Central Provident Fund, as the mandatory pension is called, can be used for paying mortgages, insurance and even education, unlike Hong Kong's Mandatory Provident Fund, which is usable only for retirement.
Hong Kong's government could let the MPF subsidise low-interest rate mortgages for certain groups, such as young married couples, to help them get on the property ladder, said Chartwell's Chan.
Would that help cool the rage that is fuelling Hong Kong's protests?
"It's so difficult to get onto the housing ladder," said Chan at Price Edward station. "I'm probably unqualified for a flat because I don't have a tertiary degree. I hope I can do it one day, but only if I start a business, not by working a regular job."
Additional reporting by Liu Yujing
Copyright (c) 2019. South China Morning Post Publishers Ltd. All rights reserved.