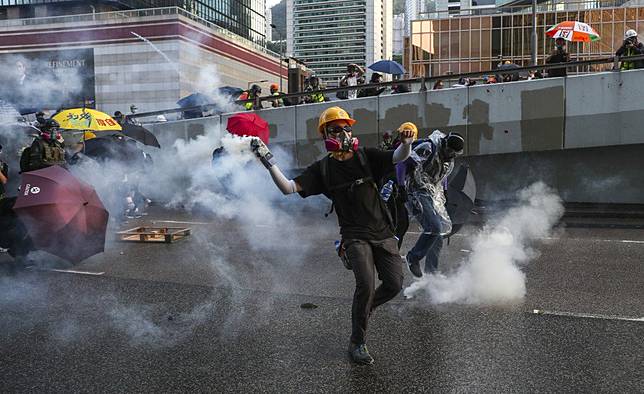 Hong Kong's stocks dropped the most in three weeks, as Chinese economic data that trailed estimates and the drawn-out protests in the city weighed on Asia's third-largest equity market.
The Hang Seng Index dropped 0.8 per cent, or 228.14 points, to 27,124.55 at the close on Monday, the steepest decline since August 26. Protesters clashed with the police on Sunday, setting fire on entrances to Wan Chai subway station and throwing petrol bombs at the government headquarters in Admiralty, as the upheaval entered its 15th weekend. The withdrawal of an extradition bill was not enough to satisfy demonstrators, whose other unmet demands included an investigation into the use of force by the police and an amnesty for the charged protesters.
China's August economic data released on Monday morning added to the fragile sentiment. Industrial output, retail sales and fixed-asset investment all trailed analysts' projections.
"The environment facing the Hong Kong market is still challenging," said Wu Kan, an investment manager at Soochow Securities in Shanghai. "The stocks aren't likely to deliver decent performances until the major negative fallout is gone."
The Shanghai Composite Index fared better, slipping less than 0.1 per cent, or 0.48 points, to 3,030.75, as sentiment swayed between optimism about more growth-bolstering policies and poor-than-expected economic data.
Hong Kong's stocks are now the least relevant to the mainland-traded equities in 19 months. The 120-day correlation between the Hang Seng Index and the Shanghai Composite Index dropped to 0.61 now, the lowest level since February 2018, according to Bloomberg data. That is a reversal of the trend since the launch of the cross-border investment channels in 2014, with Hong Kong's stocks inclined to move more in tandem with Chinese stocks. The correlation between the two gauges was as high as 0.77 per cent a year ago.
Here's why big investing firms are steering clear of China's expensive, underperforming new-energy car sector
China Mengniu Dairy lost 2.3 per cent to HK$30.15 after the Chinese company offered to buy Bellamy, an Australia-listed baby milk formula maker. The offer price of A$13.25 per shares represented a 59 per cent premium to Bellamy's close on Friday. Bellamy's stock surged 55 per cent to A$12.89 on Monday.
Airlines dropped on concern a surge in crude oil after a drone attack on a facility in Saudi Arabia will raise operating costs. Cathay Pacific Airways tumbled 4 per cent to HK$10.44. Air China sank 4.6 per cent to HK$7.23 and China Eastern Airlines shed 5.2 per cent to HK$4.02.
Mengniu Dairy moves to buy Australia baby milk formula maker Bellamy for US$1 billion as part of global expansion goals
Brent oil futures surged as much as 19 per cent on Monday, the biggest since the trading of the contracts started in 1988, and the contracts jumped as much as 15 per cent in New York. The strike removed about 5 per cent of global oil supply.
Stocks Blog: China oil stocks surge after drone attacks on Saudi facilities; MTR falls again after latest protester attacks at stations
The attack dented risk-on sentiment in stock markets and hurt the economies and the currencies of oil-importing Asian nations, said Kerry Craig, a strategist for global markets at JPMorgan Asset Management.
Oil producers bucked the decline. Cnooc surged 7.4 per cent to HK$12.78 and PetroChina soared 4.3 per cent to HK$4.32, making them the best performers on the Hang Seng Index.
Copyright (c) 2019. South China Morning Post Publishers Ltd. All rights reserved.