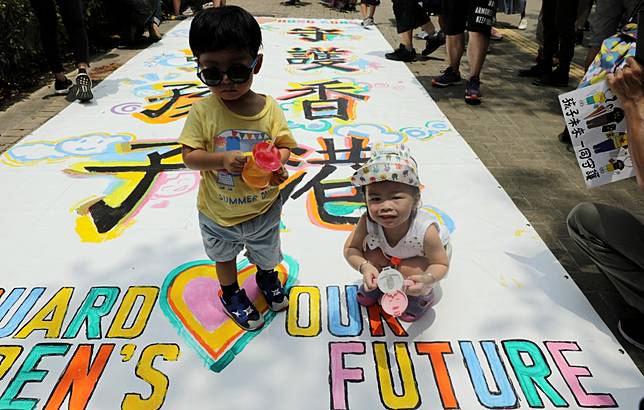 Given the escalating chaos on the streets of Hong Kong, it is an understatement to say the rule of law is under stress. Having caused "unforgivable havoc", Chief Executive Carrie Lam Cheng Yuet-ngor and her ill-starred government continue to muddle from one dreadful miscalculation to another.
The October 1 celebration of the 70th anniversary of communist rule in China provided a logical watershed for a change in tack. This was the big protest crescendo, after which common sense would surely return. Or so conventional wisdom averred. But something would have to give.
Having braved the storm, Lam could have done the right thing and offered her resignation with key secretaries - responsible for the crisis - following suit. (She could still do this but has chosen to surrender the city's "high degree of autonomy" to Beijing handlers. This is not how the Basic Law envisaged the functioning of government.)
With a clean slate, a new interim team in place, and a fresh chief executive election set in motion, there would have been a potential listener in the administration. The government instead doubled down with an iron fist and a miscued anti-mask emergency decree.
Lam's unfathomable mix of coy contrition and callous contrarianism has sent out all the wrong signals, at once offering student protesters a free pass for further arson and anarchy while rendering policing all but impossible. That "unforgivable havoc" has simply multiplied, casting doubt on the sincerity of the initial utterance.
Clearly, Lam lacks a suitable leadership role model and is hampered by a bureaucratic check-the-boxes pedigree. A day before her annual policy address, she triumphally declared: "We have announced some 500 initiatives in the last two policy addresses and the achievement rate is close to 97 per cent."
Confronted by a city in crisis, this is an irrelevant calculus, dangerously akin to Nero and his fiddle. It is possible that Lam fashions herself after President Xi Jinping, China's paramount leader, forgetting that she is no Xi and Hong Kong is not China (yet).
Lam's policy address "carrots" include "transitional" housing and mortgages for the underprivileged, and the takeover of big tracts of fallow private land, along with anti-recessionary measures to ease business burdens with second-quarter gross domestic product shrinking by 0.5 per cent. Protester demands for an independent inquiry and universal suffrage remain unmet.
So, where does Hong Kong go from here? The carnage on the streets has sidelined the city's core economic, social and political issues. Assuming Lam and her cabinet do not resign, and with rudderless students hell bent on maximum damage as they see no future for themselves ("If we burn, you burn"), it falls to city elders to help moderate the drama to a less grim denouement.
There are three obvious parties to shoulder this moral responsibility - professors, parents and politicians - each with a stake in the future of the city's youth.
The city's educational institutions, wrongly under fire by Beijing for the purported evils of a freethinking liberal education, must be castigated instead for their hand-wringing inaction on student protests that have crossed over from moral crusade to mortal combat.
Students, like all citizens, enjoy freedom of speech, lawful assembly and protest. Educational institutions, however, should have zero tolerance for any attack on the rule of law.
Eyebrows were rightly raised when De La Salle Secondary School offered support - not expulsion - for an 18-year-old student who was arrested after a policeman's neck was slashed with a box-cutter on October 13.
Schools might hint at intimidation and violence, with professors held hostage by a mob. This argument is not without merit.
Yet, institutions supporting the principle of protest have to explain forcefully to their wards why violent acts are not in keeping with the norms of civilised discourse. The extreme intolerance for differing points of view accompanied by random beatings, stabbings and vigilante justice, bear all the hallmarks of a totalitarian state, not a democracy.
Half a million students with a grouse come packaged with a million parents. These parents, grandparents, and flag-waving toddlers were in evidence in the first peaceful June marches. The family is a primary social unit in the fabric of any city and how families react and respond to this crisis will help shape the city's destiny.
This may seem laughable. Teens resent parental authority, but parents have a very important role to play. Family elders need to step out from the shadows and explain with sensitivity why being rude, crude and ill-mannered is far from "cool" in any civilised society.
Politicians of all hues, not just the pan-democrats, must exert their leadership and moral authority. This is the time to shape Hong Kong's future. That is why they were elected. If not, it is time to remove them at the next hustings.
The police-protester shenanigans will continue. Neither side is likely to prevail. The administration will continue to tinker aimlessly. At this dark hour with a failing government, Hong Kong is in need of moral leadership. Citizens need to start local dialogues, not as vigilantes, but as visionary leaders acting in concert.
Hong Kong retains its keen energy, painfully evident in the misdirected mayhem on the streets. That passion needs to be channelled in positive directions. At the end of the day, it will take a new chief executive (with a new team) to mend fences with skilful legislation, radical electoral reform, and social outreach to take us towards a new future. Until then, the city is on its own.
Vijay Verghese is a Hongkong-based journalist, columnist and the editor of AsianConversations.com and SmartTravelAsia.com
Copyright (c) 2019. South China Morning Post Publishers Ltd. All rights reserved.