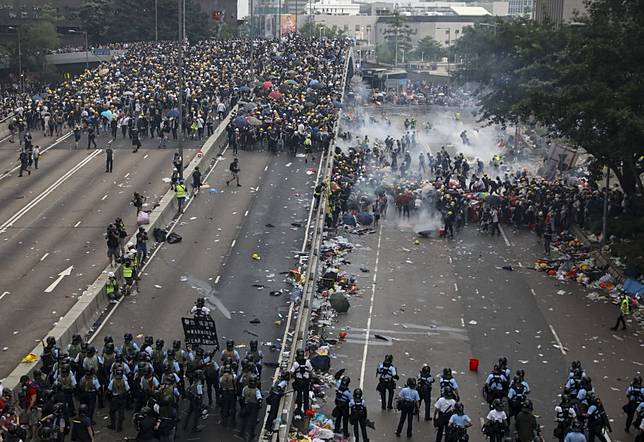 Hong Kong's residents are rushing for the sidelines in the city's property market, as a political crisis festers while street rallies that have persisted for more than a month have deteriorated into violence.
Sales of lived-in homes will fall 35.5 per cent to a five-month low of 2,600 transactions in July, with the value expected to drop 33.7 per cent to HK$24 billion (US$3.07 billion), according to a forecast by Centaline Property Agency. Even the flipping of car-parking space - a unique short-term speculation in land-scarce Hong Kong - has already fallen by 52.4 per cent to fewer than 600 lots this month, from 1,261 last year, said Midland Realty.
"Buyers are adopting a wait-and-see attitude," as sentiments had been "affected by a series of incidents such as the protest rallies against the controversial extradition bill, and a developer who reneged on its commercial plot in the former Kai Tak airport," said Wong Leung-sing, senior associate director of research at Centaline.
The downbeat forecast for July is a blow to Hong Kong's property bull run, which had barely begun to recover its pace after a five-month stumble. HSBC and Bank of China (Hong Kong) cut their valuations of used homes in the New Territories and Kowloon on July 9, a month after an estimated 1 million people marched on the streets to oppose the city's controversial extradition bill.
Even though the bill is essentially "dead" according to Hong Kong's Chief Executive Carrie Lam Cheng Yuet-ngor, rallies persisted almost everyday, and are showing signs of deteriorating into violence. On Saturday, police made the largest seizure of the home-made explosive triacetone triperoxide (TATP) and arrested a man in connection with building an arsenal of weapons and fire-bombs on the eve of another major protest rally.
The total number of newly built and lived-in homes sold in Hong Kong plunged 44.3 per cent in June to 4,774 units, according to the Land Registry's data compiled by Hong Kong Property (Services). Only 102 shops changed hands in June, 34.2 per cent fewer than a month earlier, Midland said. The value of offices that changed hands fell 35 in June to HK$2.25 billion, even as the number of transactions remained the same at 135.
Knight Frank thought prices could drop up to 5 per cent, Credit Suisse said prices could drop but did not specify how much, CK Asset maintained its forecast made early this year home prices could drop 10 per cent this year and by up to 8 to 10 per cent next year, Moody's said there may be "blips and bumps" of 2 to 3 per cent, but would later recover.
The impact of the current political crisis on Hong Kong's property market draws a stark contrast with the Occupy Central protests of 2014, which lasted for 79 days between September 26 and December 15.
Real estate sales actually rose 1.2 per cent to 7,996 transactions in September of that year, dipped 0.4 per cent in October, shrank by 19 per cent in November and then rebounded by 17.4 per cent in December when the protests disbanded.
"Occupy Central was long but not as serious (as now), with conflicts once or twice a week," said Chris Leung, a lecturer of finance at the Chinese University of Hong Kong Business School. "There were only two to three conflicts at that time," Leung. "There are still some (conflicts) coming. Everyone knows. Nobody knows how to end the case."
Can Kai Tak, Hong Kong's former airport, take off as the city's second business district?
Copyright (c) 2019. South China Morning Post Publishers Ltd. All rights reserved.