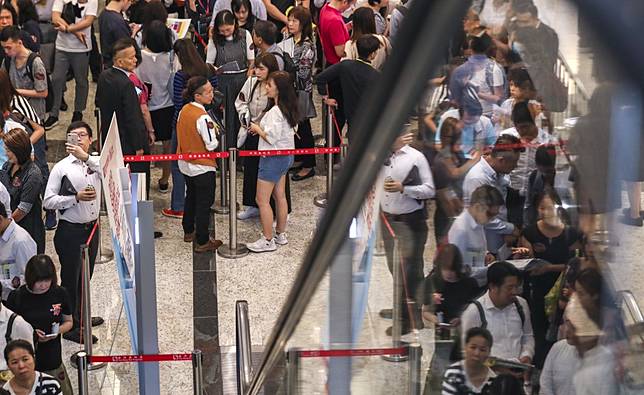 Individual and corporate homebuyers piled into Hong Kong property last month to pick up bargains as city developers offered the most number of units for sale in several months after a surprise relaxation of mortgage entitlements for first-home buyers.
Buyers' stamp duty, a 15 per cent surcharge on the price of a property that must be borne by non-permanent Hong Kong residents and corporate buyers, soared 2.8 times last month to HK$880 million (US$112.4 million), while the number of transactions jumped 1.8 times to 296, according to data by the Inland Revenue Department.
October was one of the more active months for property sales, after Hong Kong's Chief Executive Carrie Lam Cheng Yuet-ngor on October 16 announced an unexpected increase in loan entitlements for homebuyers. At least 1,356 units were offered for sale last month, including Sun Hung Kai Properties' Cullinan West III in Nam Cheong, CK Asset's Seaside Sonata in Sham Shui Po and the Upper Riverbank project in Kai Tak by Longfor Group and KWG Group.
"Market sentiment (last month) was a little better than before," said Ricacorp Properties' head of research Derek Chan, adding that "it is possible" that the popularity of Cullinan West III among mainland Chinese buyers "drove the sharp rise" in transactions and stamp duties. "The previous base was too low so the increase would be more significant with more interest from mainland buyers."
The amount of double stamp duty, an extra 15 per cent surcharge that must be paid by buyers who already own a home in Hong Kong, tripled to a five-month high of HK$1.18 billion, while the number of transactions rose to 481.
The data shows how investment capital continues to pour into Hong Kong, even as the city's economy was driven into its first technical recession in more than a decade by six months of anti-government protests and the worst political crisis in history.
Buyers from mainland China led the rush, owing to their interest to find a store of value for "funds that need a way out," said Chan. "Not all mainland buyers are pessimistic about (the Hong Kong) market outlook. Hong Kong's market is attractive and some buyers are more forward-looking."
Signs of mainland Chinese buyers abound. Seven of them forked out a combined HK$670 million for 24 apartments at Cullinan West III in September through nominee companies, according to records at the Land Registry and Companies Registry. Their stamp duties were estimated at about HK$200 million.
SHKP, which offered its Cullinan West III at discounts, sold 58 per cent of the 235 units on offer on October 17, while CK Asset sold half of its 218 Seaside Sonata flats on the same day, pricing them 10 per cent lower than comparable projects in the neighbourhood.
But the spurt in buying interest after the relaxation of mortgage entitlements was short-lived, with property transactions dwindling last week, as anti-government protests enter their sixth month.
Only 21 flats found buyers in the week ended Sunday, a drop of 58 per cent from the previous week and the third week of declines, according to Hong Kong Property (Services), which tracks 20 major lived-in estates. This compares to 68 in the week ended October 20.
"New projects have diverted purchasing power while owners are raising asking prices seeing a better market," said Louis Chan, vice-chairman for Asia-Pacific and chief executive of residential division at Centaline Property Agency. "Also, traffic in some areas were affected by the social movement this weekend, which caused turnover to plunge."
Sammy Po, chief executive of the residential division at Midland Realty, noted that transactions fell in that owners who raised asking prices tend to keep prices firm and are reluctant to offer discounts.
"Bargains had been snapped up already and supply of good listings is not replenished yet," added Po.
Copyright (c) 2019. South China Morning Post Publishers Ltd. All rights reserved.