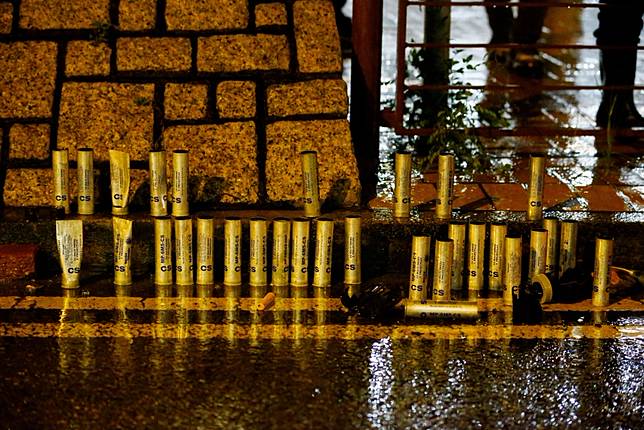 A reporter in Hong Kong has been charged with possession of ammunition after he was allegedly found collecting submunitions of tear gas hand grenades and rounds of rubber and sponge-tipped bullets used by police for examination.
Eastern Court on Tuesday heard that Chow Man, 26, was accused of carrying a host of used ammunition without a licence, when he was stopped by officers at Exit B of Sai Wan Ho MTR station in the early hours of November 18.
Court documents showed the collection included 23 pieces of submunitions of 38mm CS projectile round, nine pieces of submunitions of CS hand grenade, five cartridges of 38mm CS projectile round and a piece of CS hand grenade fragment.
He was also accused of carrying a cartridge of a 38mm rubber baton round and another of a 40mm React round, meaning a sponge-tipped bullet.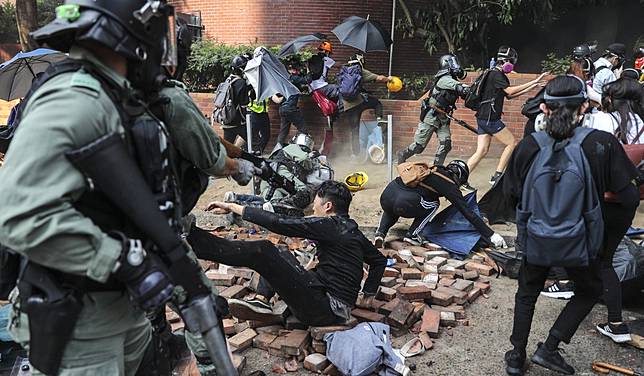 But the Tseung Kwan O resident was not required to enter a plea on a count of possession of ammunition without a licence as prosecutors sought more time for forensic examination and legal consultation.
Principal Magistrate Bina Chainrai adjourned the case to January 14 next year and remanded the man in custody.
Possession of ammunition without a licence is an offence punishable by 14 years' imprisonment along with a fine of HK$100,000 (US$12,000) upon conviction in Hong Kong.
At West Kowloon Court, 19 people, aged between 16 and 29, arrested over violent clashes near Hong Kong Polytechnic University on Sunday, were charged with taking part in a riot.
Court documents said the defendants, including 13 students, had taken part in the riot at the junction of Chatham Road South and Cheong Wan Road on Sunday.
A 16-year-old girl, who cannot be named for legal reasons, and clerk Jeffrey Wan Ho-chung, 26, were additionally charged with possessing an offensive weapon or instrument for unlawful purposes.
The girl was also charged with failing to produce her identity card, while Wan faced an extra count for intentionally causing grievous bodily harm to a police officer, who prosecutors only identified as X, by hitting him in the face with a hammer.
Only 13 defendants appeared before Principal Magistrate Peter Law Tak-chuen in the first hearing, as six of them were still in hospital.
The defence counsel complained some of their clients had been subject to assaults by police officers even though they did not resist arrest. The defence counsel also said some defendants had been denied medical help in police custody.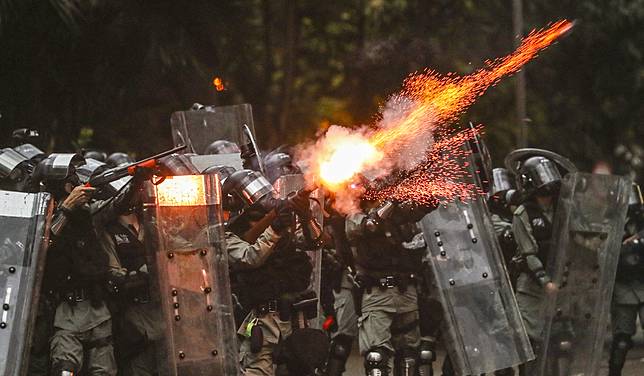 But Law said the court had no power to urge police to address the defendants' complaints, and the court was only concerned with the legal proceedings.
"I hope the court will not send out a wrong message. The court is not the supervising body of police," he told the defence counsel.
Law adjourned the case to February 10 pending further police inquiry and granted cash bails for between HK$1,000 and HK$5,000 to 11 defendants, but imposed a travel ban, a curfew and a prohibition order on them.
But he denied bail to Wan and unemployed woman Kwong Siu-fan, 20, after she was apprehended while on police bail over another case.
Copyright (c) 2019. South China Morning Post Publishers Ltd. All rights reserved.