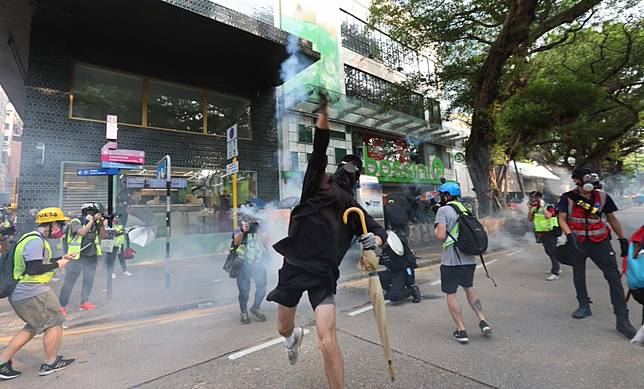 Hong Kong police released a man after he filed a complaint to the court on Monday alleging the force refused to tell him who had arrested him and what he was being held for.
The man, whose lawyers declined to reveal his identity, made an urgent bid at the High Court to apply for a writ of habeas corpus, after he was arrested on Jordan Road near Nathan Road at about 4pm on Sunday.
His lawyers said he passed by the area during a stand-off where anti-government demonstrators hurled petrol bombs at a police station and set up barricades in the shopping district of Tsim Sha Tsui.
He was not wearing any protective gear commonly used by protesters.
At the hearing that started at 5pm on Monday, a government lawyer told Mr Justice Anderson Chow Ka-ming the applicant would "be released forthwith", after the man's counsel Hectar Pun Hei SC complained that his client had neither done anything suspicious nor carried any weapons at the time.
Chow subsequently ordered the application be adjourned sine die, or indefinitely. He made no orders concerning the application.
During the court proceedings, Pun said officers told his client he had been arrested for unlawful assembly only after he was brought to a police station. Pun said police told the man he had been arrested by a Police Tactical Unit officer, but refused to disclose his name due to his "sensitive position".
They later changed their position and told him he had been arrested by "an unknown person", before they corrected that again and said it was by one serving with the commercial crime bureau.
Defence counsel had filed two letters to the force's Kowloon West regional headquarters before the hearing requesting the reasons for the detainment, but received no reply.
But Chow said the application may not be meaningful, because the time required to secure the applicant's immediate release following the court's order would likely surpass 48 hours - the maximum length of time police could detain arrestees without charging them.
Pun said outside court his client would be released on police bail.
Separately, at Eastern Court, pro-democracy activists Joshua Wong Chi-fung, 22, Agnes Chow Ting, 22, and Ivan Lam Long-yin, 25, successfully had curfews on them reduced from up to 11 hours to six, starting from midnight.
Wong faces three charges, alleging that he organised, incited and took part in an unauthorised assembly during a siege of the police headquarters on June 21.
Chow was similarly accused of incitement and participation, while Lam faced a single incitement charge over the same protest.
The trio were granted bail on their first court appearance, with the condition that they remain in Hong Kong, obey a curfew, report to police and steer clear of the Wan Chai headquarters.
Principal Magistrate Bina Chainrai on Monday reminded them to comply with all bail conditions as breaches could lead to remand in custody until the next hearing scheduled on November 8.
Copyright (c) 2019. South China Morning Post Publishers Ltd. All rights reserved.