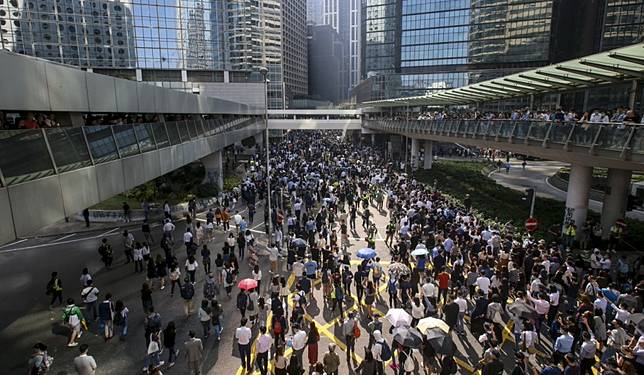 Hong Kong's lunchtime protests expanded on Friday from the Central and Tai Koo business districts to more locations such as Causeway Bay and Wong Chuk Hang, with hundreds of participants at each spot and major roads again blocked.
At 12.30pm, the crowd which converged in Central set foot on Pedder Street, and blocked two lanes and left one for traffic. It was led by a few masked men in suits, followed by a few protesters dressed in black who blocked all three lanes as they chanted "five demands, not one less".
In Tai Koo, a small crowd gathered in the square outside the One Island East office building and chanted "five demands, not one less". They walked from Westlands Road, and blocked King's Road.
In Wong Chuk Hang, protesters built a roadblock using construction barriers from a nearby work site, as hundreds marched along Wong Chuk Hang Road.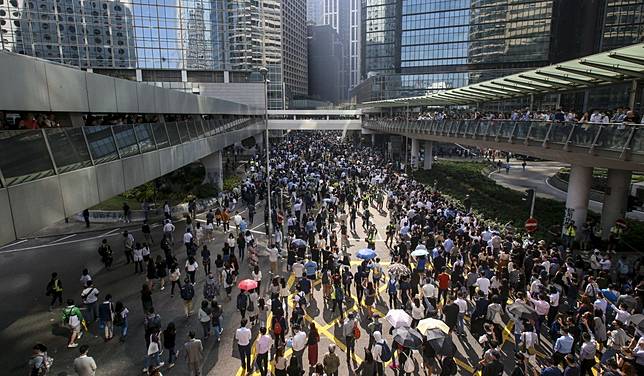 Protesters in Wong Chuk Hang dug up pavement bricks and set up a roadblock in the now familiar pattern, with two upright bricks and one horizontal one stacked on top.
Messages also circulated on LIHKG, the popular online platform, with activists calling for more protests in 11 places in Kowloon and the New Territories at 3.30pm. Those locations include Hung Hom, Kwun Tong, Fo Tan, Tai Po and Tuen Mun.
Wilson, a legal clerk who works in Central, said he had been attending the marches at lunchtime since Monday.
"The government likes to urge us to cut ties with those who resort to violence," he said "But we are here to show we are one united front."
The 30-year-old said some protesters might be violent, but the root cause was the government had tolerated police brutality.
"We are defending our last shred of freedom," he said.
One woman tried to remove the bricks placed on the floor in Central, but was stopped by a group of protesters who asked to her to leave.
The woman, who asked the Post not to disclose her name for fear of being doxxed, said protesters should respect the rights of others.
"Why are they allowed to destroy the place we all live in?" said the woman, who was born and raised in Hong Kong.
She said in a democracy, if protesters had the right to place bricks on the floor, others should have the right to remove them.
"It has gone too far. What about the regular people?" she said.
Soon after the marches started in Central, Causeway Bay, Taikoo and Wong Chuk Hang, another smaller march started in the business district of Kwun Tong. Protesters marched along one lane of Kwun Tong Road shouting "Hongkongers, revenge", but did not set up road blocks. The march ended just before 2pm, with protesters going back into their office buildings as they clapped and shouted "add oil".
Meanwhile, protesters on East Point Road in Causeway Bay spilled out onto Hennessy Road in front of the Sogo department store. Riot police arrived, but only to ask protesters to return to the pavements and to use the pedestrian crossing properly.
Police stayed on to ensure the road remained clear for vehicles as people alternated between shouting slogans and heckling the police.
In Wong Chuk Hang and Tai Koo, black-clad protesters began digging up bricks and setting up roadblocks. Six lanes on Wong Chuk Hang Road and lanes on Heung Yip Road were blocked, while in Tai Koo, the junction between King's Road and Kornhill Road was covered with stacked bricks.
However, a rumour spread that police were arriving, causing masked protesters in both locations to disperse.
In Central, there was a noticeably reduced presence of radical protesters, identified by their black clothing. One protester thought it was because of a message circulated through their social media channels calling for Friday to be a "rest day".
Copyright (c) 2019. South China Morning Post Publishers Ltd. All rights reserved.