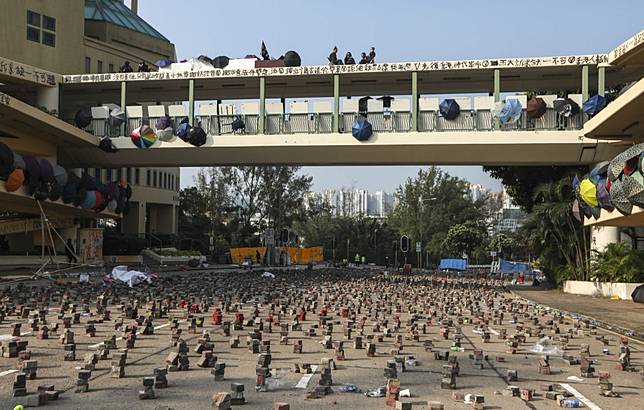 The beleaguered Hong Kong government came under mounting criticism from across the political spectrum on Thursday for its failure to bring normalcy back to a city that protesters held hostage for the fourth straight day with their spree of besieging and blocking roads.
The Cross-Harbour Tunnel was effectively defunct for an entire day as protesters put up barricades of chairs, tables and boards they had commandeered from neighbouring Polytechnic University. Later at night, they again set the tollbooths on fire and then, hiding behind their canopy of umbrellas, they unfurled a giant Chinese flag that they set alight.
At the University of Hong Kong, in the cover of night, protesters had cemented a low wall of bricks on one road. Up north, on Tolo Highway, next to Chinese University, protesters now control a bridge overlooking it threatening to throw petrol bombs at any passing traffic.
Black-clad protesters are also guarding side roads they have barricaded with bamboo poles and improvised structures, making travel into the city for residents in New Territories towns especially difficult. Several drivers had petrol bombs flung at their cars when they tried to pass through the barriers on Thursday morning.
At Chinese and Polytechnic universities, parts of the campuses have been taken over by black-clad protesters who spend their nights gathering objects for barricades, making petrol bombs and practising shooting arrows and throwing the fire bombs.
On Thursday, supporters and well-wishers flooded their collection points with cup noodles, clothes, gadgets and power banks, among other donations piling up. At several locations, at these two universities and at Baptist University in Kowloon Tong, protesters stood guard to inspect the identification and bags of those entering the campus facilities.
Amid the government's seeming inaction over this week's protests, President Xi Jinping spoke on the political crisis on Thursday night, saying that putting an end to violence and restoring order remained Hong Kong's most urgent priority. Without naming Carrie Lam Cheng Yuet-ngor, he said he firmly supported the administration "led by the chief executive to execute its functions in accordance with the law".
"We sternly support the Hong Kong police to take forceful actions in law enforcement, and the Hong Kong judiciary to punish those who have committed violent crimes in accordance with the law," he was also quoted as saying on a post on the Weibo account of the People's Daily, while attending the BRICS annual summit in Brazil.
In his first public remarks on the troubled city at an international forum, Xi described the continuing violence as a threat not just to law and order and the city's prosperity and stability but also "a blatant challenge to the bottom line of the 'one country, two systems'" governing principle.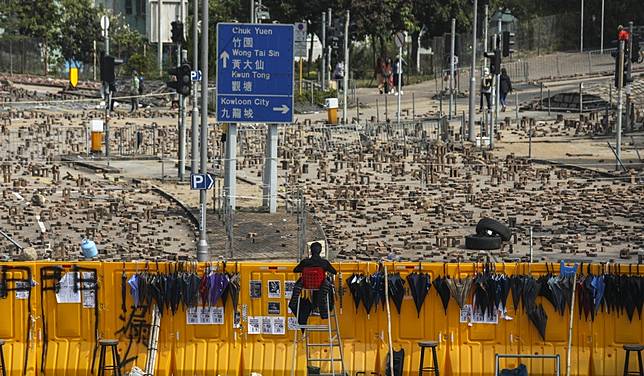 Lam did not make a public appearance over the past two days but held a late-night meeting with her minister on Wednesday at her residence at 10pm, fuelling speculation that the government was coming up with a proper plan to defuse the weekday mayhem of the past four days.
But hopes of a decisive action to restore the city to normalcy quickly dissipated on Thursday morning after Chief Secretary Matthew Cheung Kin-chung said at the Legislative Council that while senior officials were trying to identify a solution, no cure had been found yet to calm things down and move towards reconciliation.
Cheung made matters worse when he described the huddle at Lam's residence as "an ordinary meeting last night".
"There was no special meaning attached to it. It was just a matter of time and we were all busy with other meetings. It was not the first time we met at night," he said.
Pro-Beijing legislators implored the city's leader to stiffen her resolve and adopt more measures to restore peace.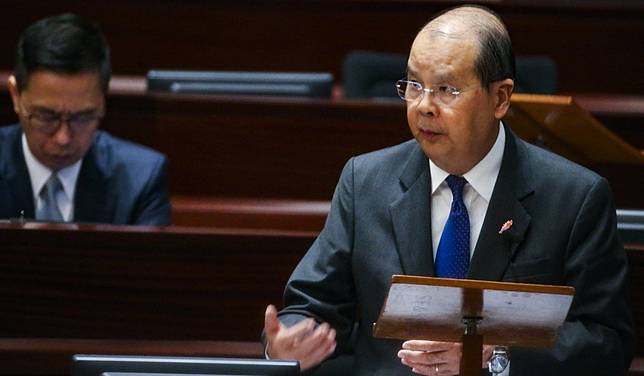 "People need to see that it's not just the police fighting violence. People need to see that the chief executive and top officials are helping," said Starry Lee Wai-king, leader of the city's largest pro-government party.
In another sign of the camp's growing impatience, pro-Beijing newspaper Wen Wei Po had rare strong words for Lam when its editorial declared Hong Kong people were losing confidence in the government's ability to stop violence.
Opposition lawmakers such as the Civic Party's Dennis Kwok said Lam and her colleagues had lost the legitimacy to govern.
People need to see that it's not just the police fighting violence. People need to see that the chief executive and top officials are helpingStarry Lee, leader of pro-government party
Overnight rumours circulated that Lam was planning to impose a curfew on Hong Kong, sparking fears the government was once again making a blunder with a decision it could not follow through, much like the widely ignored anti-mask law it passed early last month.
Global Times, a tabloid affiliated to Communist Party mouthpiece People's Daily, also cited sources and tweeted that the city's government was expected to announce the curfew. The tweet was later deleted, and a government source said there was no such plan, but by then the speculation had been picked up by foreign media.
A government source said top officials had mulled the possibility of imposing a curfew under the existing Public Order Ordinance before it enacted the mask law.
"The top echelon of the government later considered the idea not feasible as it is difficult to enforce it. There is no change of the government's position despite the mayhem since Monday," he said.
Pro-Beijing heavyweight Tam Yiu-chung, the city's sole delegate to the National People's Congress Standing Committee, the country's top legislative body, told a radio show that while he would support any move to curb violence he doubted a curfew would work.
The source added that the government still hoped to ensure the district council elections would be held as scheduled on November 24.
Another source said of the late-night meeting in which the curfew and elections were discussed: "After two hours, they decided on nothing."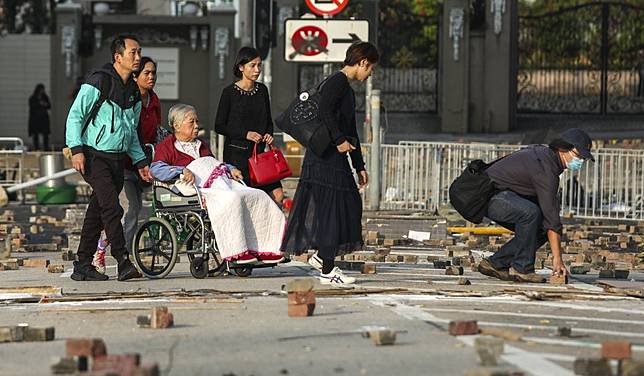 While the city's administrative and legislative centre in Admiralty was in its cocoon of blue and white water barriers, the atmosphere was tense in multiple locations across the city on Thursday.
Apart from blocking key roads near university campuses, demonstrators also caused disruptions to MTR train services by hurling petrol bombs onto the tracks near Hung Hom and Kwun Tong, marched in business districts such as Central and Tai Koo for lunchtime protests, and vandalised shops in Sheung Shui.
Earlier in the day, as commuters struggled with getting around Tolo Highway, which connects Sha Tin and Tai Po, the West Rail line also partially closed, leaving many workers stuck at home.
At least 15 MTR stations were closed, while 65 bus routes were affected by roadblocks.
As of 10pm on Thursday, 49 people, aged from 48 days to 60 years old, were admitted to hospital. Of them, 16 were stable, 32 were discharged and one was waiting to be seen.
After the class suspensions on Thursday, the Education Bureau announced that classes at kindergartens and primary, secondary and special schools will stay shut until Sunday.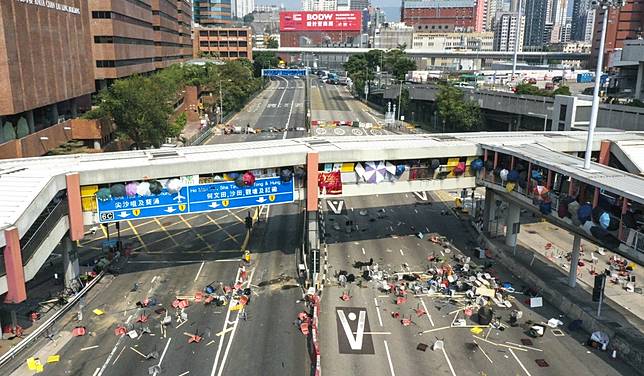 Again, thousands of protesters, many in office attire, poured onto Connaught Road in Central, while others placed bricks on Des Voeux Road Central upright and in triangle formations, a now-familiar pattern to delay police from advancing to clear them.
Among those shouting slogans was Joyce Lee, 31, a hospitality industry worker. She felt weekday demonstrations had been more effective than weekend protests.
"We can, and have, brought schools and some work to a halt. I am not afraid of public opinion turning as those who are blind to police violence already turned against us long ago," she said.
About 100 people marched in Kwun Tong, while hundreds also marched on King's Road in Tai Koo and set up roadblocks. Three masked protesters later damaged a surveillance camera at Tai Koo MTR station and flooded it by turning on a hose from a hydrant.
In the afternoon, a black-clad man was attacked by a mob with rods in Sheung Shui, while a man was punched by masked protesters in Central.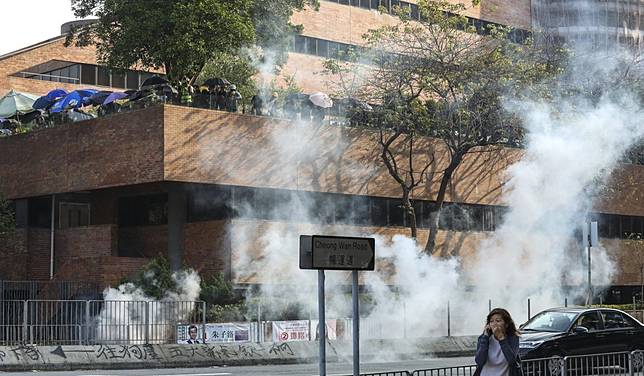 At the Cross-Harbour Tunnel, police fired tear gas at Polytechnic University early in the morning after black-clad mobs had flung projectiles towards a cordon of officers outside. Police later said "rioters" fired arrows at several of their men near the campus at 6.45am.
After police reinforcements arrived, protesters threw flower pots, so riot police fired tear gas in response. Protesters again shot arrows at them. No officers were injured, and six arrows were then recovered at the scene.
San, a Form Four student, dressed in black and masked, joined protesters there early in the morning. Armed with a tennis racket, she said she had joined the movement since the summer.
"I'm not afraid, I've seen my friend being arrested on the frontline and I was so mad at the police after that. This is my duty as a student to fight," she said.
At the University of Hong Kong, a group of people came to clear a small section of the brick-strewn road during their lunch break. A man who said he graduated from there in 1984 shouted to reporters: "Not everyone supports them, I just want to tell you. My company and my friends' companies will never hire these graduates."
At a press briefing, Chief Superintendent John Tse Chun-chung slammed the radicals for blocking more than 20 traffic arteries.
"Anyone could be the next victim. It has become a social threat," Tse said.
Tse piled pressure on the universities' management, saying: "School heads should make a clear stance against violence and do all they can to prevent students from continuing with these destructive acts."
On their secret communication channels, protesters said they were planning more surprises on Friday.
Reporting by Victor Ting, Alvin Lum, Sum Lok-kei, Chan Ho-him, Elizabeth Cheung, Kathleen Magramo, Zoe Low, Karen Zhang, Phila Siu, Jeffie Lam, Lilian Cheng, Gary Cheung, Joyce Ng, Chris Lau, Christy Leung, Tony Cheung and Kanis Leung
Copyright (c) 2019. South China Morning Post Publishers Ltd. All rights reserved.