Hong Kong's equal opportunities watchdog has received more than 300 inquiries since mid-June regarding accusations against police of sexual harassment, but no complaints from actual victims, its chairman said on Wednesday.
These "questions" mostly concerned alleged inappropriate or violating behaviour by officers during arrests or stop-and-search operations, with a small number about sexist comments said to have been made towards women members of the force by anti-government protesters or bystanders.
"We have not received any complaints from actual victims," Equal Opportunities Commission chief Ricky Chu Man-kin said on a radio show.
The information needed to come from affected parties to be considered complaints, otherwise they were classed as questions, he explained.
Chu said the number of inquiries had increased following the circulation of a video in late June that appeared to show officers dragging a woman in a skirt across the ground, exposing her private parts, during a street protest against the government's now-scrapped extradition bill.
Clashes between protesters and police have taken place regularly since demonstrations first erupted in early June against the bill. Since October 1, China's National Day, the level of violence and vandalism has escalated, with MTR stations, shops, banks and restaurants with links to mainland China trashed.
The bill would have allowed criminal suspects to be sent to mainland China and other jurisdictions Hong Kong does not have an extradition agreement with.
Sonia Ng, a student at the Chinese University of Hong Kong, recently went public with accusations that the police had subjected her and other women arrestees to sexual violence. The force said officers were investigating her accusation.
Chu said: "We can only ask people making inquiries to tell victims to get in touch with us, either in person or over the phone, as we need to assess the victim's perception and feelings about the incident."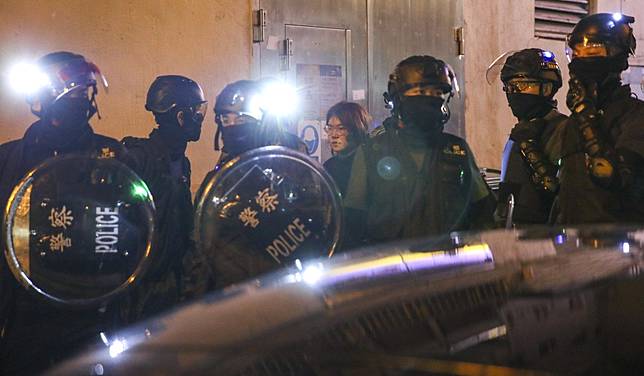 All complaints would be handled anonymously, Chu added.
The commission would provide legal advice for those seeking help but more serious accusations such as rape or sexual assault would need to go through criminal proceedings, he said, which would take precedence over any investigation into sexual discrimination.
Separately, the commission also received about 30 inquiries after controversial lawmaker Junius Ho Kwan-yiu used a sexist insult against pro-democracy legislator Claudia Mo Man-ching during a session at the legislature on Tuesday.
"We will respond to each of these inquiries individually," Chu said. "However, as the comments were made inside the legislature, they fall outside the commission's jurisdiction."
But Chu added that Ho's words should definitely be considered sexual harassment. The commission issued a statement after the incident calling Ho's behaviour inappropriate. It said the lawmaker should stick to the issue being discussed rather than resort to personal attacks.
"We hope people can keep to these basic boundaries," Chu said.
Copyright (c) 2019. South China Morning Post Publishers Ltd. All rights reserved.