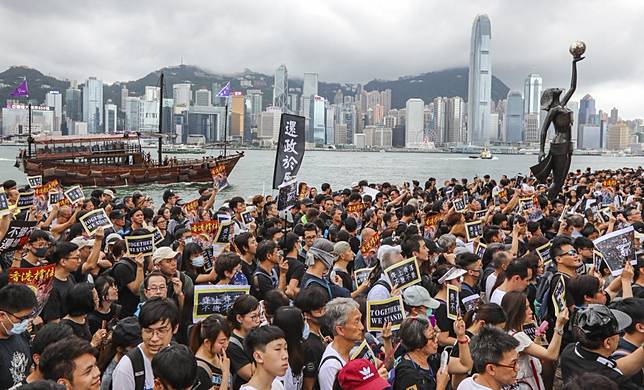 Hong Kong's authorities have upheld a police ban on a planned anti-government march in Tsim Sha Tsui on Sunday, citing "public safety and order", but organisers say they still intend to push ahead in their personal capacity.
In a majority decision on a four-member panel on Saturday, the Appeal Board on Public Meetings and Processions dismissed the bid by march organiser Civil Human Rights Front, calling it a "difficult" decision.
Delivering the verdict, board vice chairwoman Betty Chan Ka-wai said: "The board has seriously considered the arguments for public order and protection of other people's rights and property, and come to this difficult decision."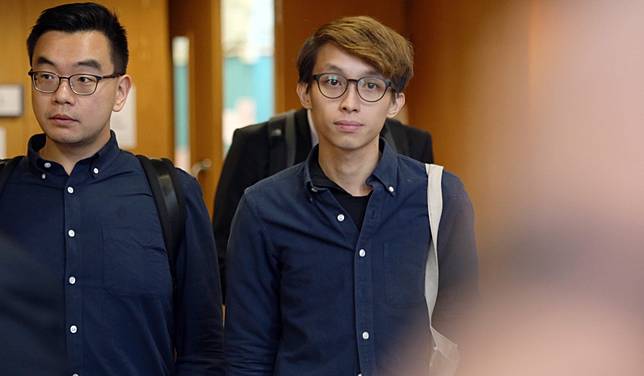 At a media conference later, front vice-convenor and appellant Figo Chan Ho-wun said he and some pan-democrats would still press on with the event.
"I am not representing the front, but we believe Hongkongers have the freedom of peaceful assemblies, and that right is not given or decided by the government or police," he said, adding participants should weigh the legal risks and remain peaceful.
Referring to an incident earlier this week in which front convenor Jimmy Sham Tsz-kit was attacked by four men with hammers and spanners, Chan also said people should not be "cowed by violence".
He earlier said the appeal result was "regrettable", but they would still consider applying for peaceful marches in the future to give moderate protesters a chance to march. The front has been behind massive marches since the social unrest erupted in June.
"The appeal result would not stop Hongkongers from expressing their opinions and fighting for democracy under the Basic Law," Chan said.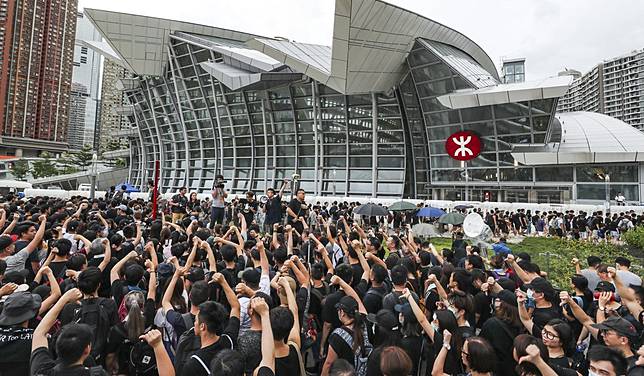 Hong Kong has been gripped by more than four months of social unrest, sparked by the now-withdrawn extradition bill, which would have allowed for the transfer of suspects to jurisdictions with which the city has no such agreement, including mainland China.
The mass demonstrations have since morphed into a wider anti-government movement, fuelled by alleged police brutality, the push for more democracy and anger at the new anti-mask law.
On Friday, police issued a letter of objection banning the proposed Sunday march at 1.30pm from Salisbury Garden in Tsim Sha Tsui to the West Kowloon terminus of the high-speed rail link. The event was expected to draw tens of thousands of Hongkongers to the streets.
In the appeal board hearing, Clara Cheng, divisional commander of Yau Ma Tei, explained police's decision and said the procession would pass through many "high-risk buildings" along the route on Kowloon Park Drive.
"The march destination at the high-speed rail terminus in West Kowloon is deemed a highly possible target of vandalism and attack, as it is a major MTR terminal with many mainland tourists crossing the co-location checkpoint," she said.
Cheng insisted the force did not have a blanket ban on public rallies and marches, saying it had approved more than 80 per cent of such applications since June.
But Figo Chan said police had refused three other applications filed by the group in past months on similar grounds, and peaceful demonstrators, particularly the elderly or frail, had not got a chance to march since its last authorised event in July.
He added that the front had already shown flexibility and a spirit of cooperation by avoiding marching on Hong Kong Island and Nathan Road in Kowloon where there were more pedestrians and shops.
Barrister Douglas Kwok, representing the appellant, argued that police had to pass three tests when imposing the ban " "lawful reason" to restrict people's constitutional rights to march, the ability to show "rational connection" that the ban could achieve this lawful reason, and that the measure be "no more than what is necessary".
Kwok said in this case, the police ban would not achieve any desired social benefits or restore peace to the city as radical protesters would still take to the streets while peaceful ones were forced to stay home and watch the events on television.
In a statement on Saturday, a group of lawyers representing the front and those arrested amid protests condemned perceived police brutality and abuse. The group said it would launch a civil case against alleged misconduct such as assaults on suspects or unlawful arrests, detention and body searches, along with a judicial review against officers not displaying their warrant numbers on uniforms.
The group said its more than 80 lawyers frequently visited 33 police stations and 17 hospitals across the city, helping more than 1,900 suspects, 92 of whom were charged with rioting.
"Some members had to wait at least six hours before seeing the arrestees, and were shocked to find police had already taken statements from them without the presence of lawyers," the statement read.
Copyright (c) 2019. South China Morning Post Publishers Ltd. All rights reserved.