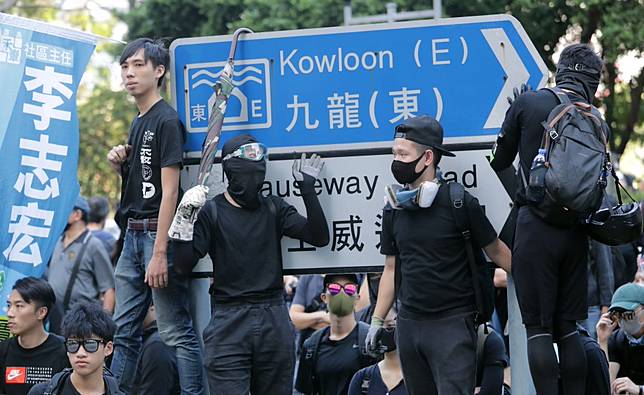 We are entering week 23 of the protests and guess who is winning? Chief Executive Carrie Lam Cheng Yuet-ngor.
Christmas came early for Lam.
On the sidelines of the 2019 China International Import Expo in Shanghai last week, Lam was granted a surprise meeting with her boss, President Xi Jinping. It was the first official meeting between the two since the city began its tailspin into hell in June. The "high degree of support" that the Chinese president assured Lam of came with an order for her to rein in the social chaos.
Many read Xi expressing his full support to Lam at the unscheduled meeting as a way of quashing speculation that she would be replaced. That's most probably true, but he also told her to take care of the unbridled violence and destruction on the streets. Xi may have repeated what everyone has been saying, but the fact that Lam has completely failed to calm things down and restore order would not have been lost on him.
So how are we to read Xi's unwavering support juxtaposed with his order for her to do what Lam has not been able to and, by logic, will not be able to do?
Nonetheless, from what has transpired last week, we know everything is in place - "locked and loaded", so to speak - and all Lam has to do is pull the trigger to cancel district council elections. The attack on civilians and a candidate at a popular shopping centre and the stabbing, in broad daylight, of a candidate canvassing votes provide more than enough reason.
We have to be prepared now, with less than two weeks to go, that calling off the elections may be just a matter of time. With Executive Councillor Ip Kwok-him, almost perfectly on cue, floating his suggestion that the government set Sunday, November 17, as the deadline for Lam to call off the elections, and his political party leading pro-establishment candidates demanding the government ensure a fair and safe election, the writing is on the wall.
Even graduation ceremonies at universities cannot be carried out without disruptions. It may be too much to ask of this government to ensure that voting will take place in a fair and safe manner come polling day.
The government formed a crisis management committee in late October to deal with exactly this. The Electoral Affairs Commission chairman Barnabas Fung Wah, heading that committee, will recommend postponing the election if it is affected by a "riot, open violence or any danger to public health or safety".
By law, the election cannot be postponed for more than 14 days, and if the threat of violence is the reason the election is called off, then it is unlikely that public order would be restored within two weeks. To be sure, Lam will not shoot herself in the foot. So what's going to happen is that it will be a long time before a new date is set.
During this time, people will be extremely angry. Only 17 per cent of respondents to a Hong Kong Public Opinion Research Institute survey conducted between October 30 and November 1 said the government should delay or reschedule the district council polls while 53 per cent said they "strongly oppose" rescheduling.
And so, there will be no elections. Lam will be roasting chestnuts on some open fire while arson and vandalism help make the season bright. Hongkongers will continue to find it hard to sleep at night.
Lam wins. And she can continue to count on the open violence and seething hate to keep her in power. As long as people are out there hurling bricks, wearing masks, setting things on fire and assaulting others, those emergency powers are Lam's to keep and use as she wishes. Let's not forget that Legislative Council elections are just right around the corner.
So please stop the senseless violence that is ultimately keeping Lam in power and stripping the people of their voice and, albeit limited, political power.
Alice Wu is a political consultant and a former associate director of the Asia Pacific Media Network at UCLA
Copyright (c) 2019. South China Morning Post Publishers Ltd. All rights reserved.