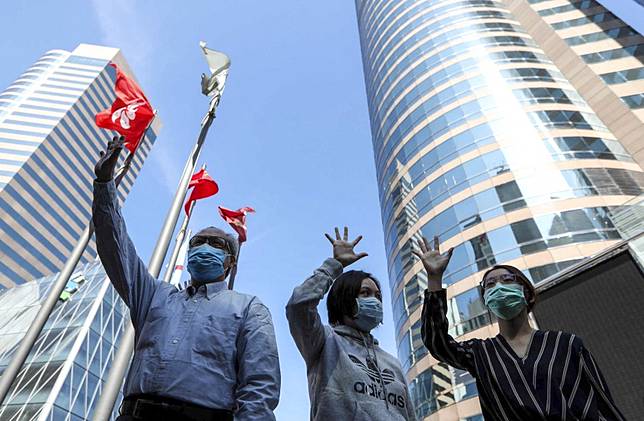 Clashes broke out between protesters and police supporters on Friday when hundreds descended on Central to rally against the Hong Kong government.
Demonstrators gathered at about 12.30pm on a bridge outside Exchange Square, which houses Hong Kong's stock exchange in the city's financial heartland, in another round of lunchtime protests that have been staged most days over the past two weeks.
Scuffles broke out after a pro-police group of about 50 people showed up about an hour later, but police arrived soon after to clear the area.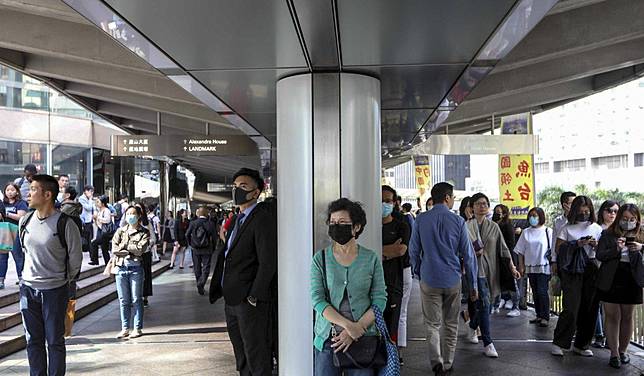 During at least two altercations between some members of each group, an anti-government contingent yelled "go back to China" at their adversaries, and one of their number kicked a woman walking towards the smaller group.
Police supporters responded by praising officers for protecting the city, with several adding: "We're not afraid to come out because police will protect us."
About 10 riot police officers at around 1.35pm and urged people to leave. The police supporters left soon after, while the protesters had cleared by 2pm.
A banker surnamed Wong, a 22-year-old who has been to nearly every lunchtime protest in Central since the latest flashmob campaign started about two weeks ago, said the government must accept the five demands, adding: "We must have universal suffrage."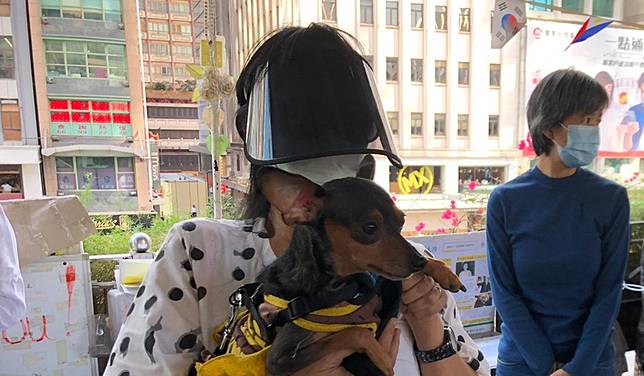 A woman, 45, who gave her name as Lee, said damaging the Cross-Harbour Tunnel was not the right thing to do, but added most protesters were peaceful and did not want to disrupt traffic.
"The young people were wrong to damage the (tunnel), but if there is no noise then it's useless. Peaceful protest is good but sometimes there needs to be disruption," she said.
The tunnel, which links Kowloon with Hong Kong Island, remained closed on Friday afternoon after it was repeatedly targeted by radicals who set fire to its toll booths.
Dozens of protesters also attended a lunchtime anti-government events in Tai Koo and Kwun Tong, where demonstrators showed support for their hard-core comrades still inside the Hong Kong Polytechnic University, which has been besieged by police since violent clashes intensified in the area on Sunday.
Additional reporting by Chan Ho-him
Copyright (c) 2019. South China Morning Post Publishers Ltd. All rights reserved.