Hong Kong police have defended their use of pepper spray after journalists were caught up in the dispersal of anti-government protesters in Mong Kok on Sunday night.
The force also denied accusations it had displayed a Stand News reporter's ID card so it could be captured by his live-streaming camera during an earlier rally, insisting the officer was unaware he was being filmed. The Privacy Commissioner is investigating the incident.
Chief Superintendent Kwok Ka-chuen, of the police public relations branch, said the journalists affected by pepper spray were among a crowd that included masked individuals, but said he would instruct officers to exercise more caution when deploying the chemical irritant.
"Of course we do not want to misfire at reporters. I will remind officers to be more aware of who is around and to issue more warnings before using pepper spray," Kwok told RTHK on Monday.
Anti-government protesters staged a flash mob protest on Sunday night, blocking roads around Dundas Street, Sai Yeung Choi Street and Soy Street as riot police chased after them.
Officers raised a blue flag on several occasions, warning protesters they were taking part in an illegal assembly.
Pepper spray was repeatedly deployed, and police were seen on camera releasing the solution in the direction of journalists at eye level.
Police appeared to drag a reporter out of a shop where he had been receiving treatment for pepper spray. RTHK, Stand News and HK01 reporters were among those affected by the chemical agent.
In a statement, RTHK's spokeswoman said police had used "unreasonable force" when reporters were cooperating with police orders and moving away.
However, Kwok emphasised the pepper spray had been used as part of a dispersal operation against an unlawful assembly, adding people wearing masks and first aid workers were also in the crowd.
Earlier in the day, a Stand News reporter covering a nearby rally in Chater Garden, Central, was stopped and searched twice in Admiralty.
In a video capturing the search published on the media organisation's Facebook page, the officer could be seen holding out the reporter's identity card to the journalist's camera, which had been filming live.
"Of course privacy is an important issue to us, but we still need to investigate the details of this case," Kwok said, adding the journalist could make an official complaint if he was unhappy.
The reporter was not wearing a press vest at the time of the incident, Kwok added.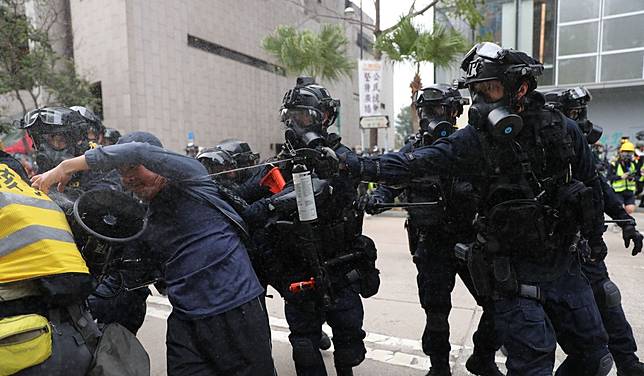 Stand News' Ronson Chan, who appeared on the radio show after Kwok, said his colleague was displaying his press pass and it was clear the officer knew he was being filmed because he could be heard on camera telling the reporter to stop recording.
The reporter's camera phone was later snatched out of his hands and damaged in the process, Stand News reported.
Chan, who also had his ID card displayed on a live stream while covering a protest last December in Tai Po, said police treated reporters differently to others when they were stopped.
"You would not see police loudly reading out a normal person's name when they are searching them, but they do that to reporters," Chan said.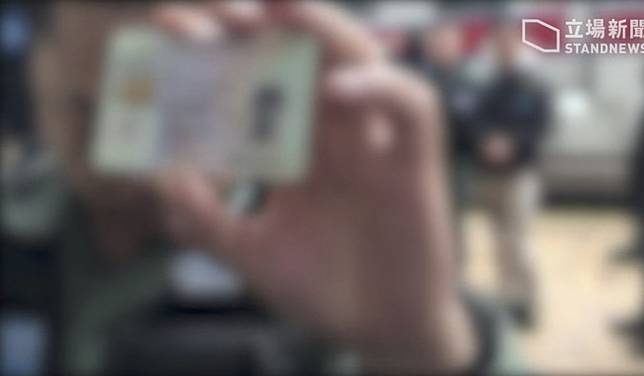 The Privacy Commissioner issued a statement saying it would investigate both cases together.
Police tried to shut down Sunday afternoon's approved rally " attended by thousands demanding universal suffrage for this year's legislature elections " after skirmishes between protesters and officers. Tear gas was fired, two officers were beaten and arrests were made.
Senior Superintendent Ng Lok-chun, who was also speaking on the programme, said Ventus Lau Wing-hong, the organiser of the rally accused of inciting the crowd, had failed to declare the rally over.
Lau instead handed the public relations officer the microphone and told him to make the declaration, Ng said.
However, footage from the rally showed Lau had announced the end of the rally at about 4pm and called on protesters to leave peacefully.
Lau, who is a spokesman for the Hong Kong Civic Assembly group, was arrested immediately after speaking to reporters in the evening.
According to Lau's group, police have accused him of inciting the crowd and violating one of the conditions laid out in the force's letter of no objection to the rally, namely that protesters must not overcrowd Chater Garden.
Lau earlier blamed police for the event descending into chaos by only approving a rally rather than a march, as originally planned.
Sparked by the now-withdrawn extradition bill in June, the protests have developed into a wider anti-government movement, focused on democratic reforms and police accountability, and have often plunged into violence, with officers and radicals trading tear gas and petrol bombs.
Copyright (c) 2020. South China Morning Post Publishers Ltd. All rights reserved.