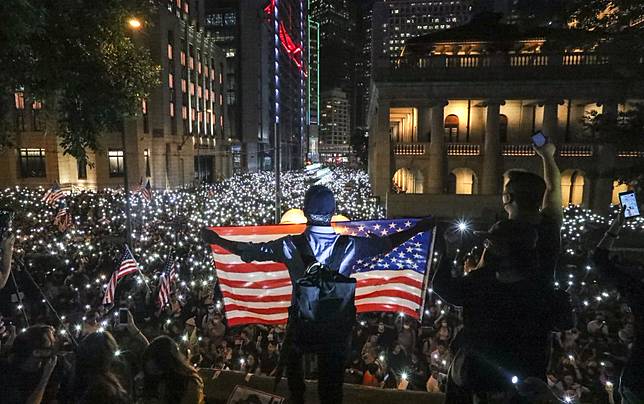 American politicians have been warned that "most of the pain" from US legislation that could put Hong Kong's special treatment under greater scrutiny would fall on residents of the city, rather than officials in mainland China or the local government.
Several US lawmakers are pushing for the US Senate to quickly approve the Hong Kong Human Rights and Democracy Act of 2019, which would allow sanctions against individuals deemed responsible for undermining Hong Kong's special autonomy status, among other measures.
But a panel of experts have said that American policymakers would be wading into a veritable minefield by passing the law, which is ostensibly seen as a way of determining whether the city exercises "autonomous decision-making".
"I think it's a really hard policy problem for the United States in part because there needs to be some sort of rule here of 'Do no harm'," Ely Ratner, deputy director of national security for former vice-president Joe Biden, said during a discussion hosted by the National Committee on US-China Relations in Washington on Monday.
"There are parts of that bill that are important in terms of some of the reporting requirements, but this lever of the autonomy status of Hong Kong is a very difficult question because the United States removing it would inflict some pain upon certain actors and some on China, but most of the pain would fall on the Hong Kong people and it would be a one-off after that, it wouldn't be possible."
Ratner was echoing the views of other China watchers, including Susan Thornton, until recently the most senior US diplomat in East Asia, who warned that the act would "punish the wrong people".
"I don't think they think about it much, but they just have this one bill that has Hong Kong in it, and they're wielding it like a club, and they don't seem to understand that the club is basically going to whack the Hongkongers upside the head, and the Beijingers will be dancing in the streets," Thornton, previously US President Donald Trump's top envoy on Asia, told the South China Morning Post in October.
The legislation would pave the way for sanctions and visa restrictions to be placed on individuals found to have abused human rights in Hong Kong.
It would also add another annual State Department review on Hong Kong's autonomy and ensure US technology does not cross the border between Hong Kong and China for use in the mainland's mass surveillance systems, according to the US Council on Foreign Relations.
It would also guarantee Hong Kong residents' rights to American visas, even if they had been punished domestically for protesting.
If passed, the bill could lead to Hong Kong's special status being revoked, in which case the US would start viewing it more in line with mainland China, thereby opening the door to potential tariffs and sanctions and a radically different business relationship.
The US House of Representatives approved the bill in mid-October, moving it a step closer to becoming law and drawing condemnation from Beijing, which considers it an attempt to interfere in China's internal affairs.
The act has strong support among anti-government protesters in Hong Kong, who have taken to the streets in increasingly hostile clashes with the city's police force, which laid siege to Hong Kong Polytechnic University this week in a multi-day stand-off with demonstrators.
Graphic images beamed across the world have led to prominent voices, including US Senate minority leader Mitch McConnell and Secretary of State Mike Pompeo, urging China to honour its commitments to Hong Kong's autonomy, guaranteed under the "one country, two systems" policy.
At Monday's round table discussion, attended by a number of big name policy experts in the US-China relations sphere, Hong Kong was unsurprisingly a hot-button issue.
As the panellists were speaking, news broke that China's top legislative affairs body had hit out at a ruling by Hong Kong's High Court that the emergency anti-mask law was unconstitutional, arguing only the national legislature has the right to decide on issues of constitutionality.
Melanie Hart, director of China Policy at the Centre for American Progress, suggested that China's perceived strong-arm approach to the Hong Kong crisis suggested insecurities among top-ranking officials in Beijing, including President Xi Jinping.
"My hope is that there will be cool heads that prevail and find a way to provide more political space and provide the people in Hong Kong what they're asking for," said Hart, who criticised what she viewed as "creeping authoritarianism" on the part of Beijing's dealings with Hong Kong.
"And I think if China's system is as great and modern as Xi Jinping claims, then they should be strong enough to provide that. If they cannot, then it says a lot about how strong China really is."
Others pointed to the lack of nuance in how Hong Kong's situation is presented in the US. While many acts of police violence are widely broadcast and commented upon by lawmakers, the escalating violence on the part of protesters does not garner the same sort of attention, said Yasheng Huang, professor of global economics and management at the MIT Sloan Centre.
"This is a leaderless movement and leaderless movements in the past have not produced positive and productive outcomes, all you see is violence and I think the Western media has under-reported the violence on the part of the demonstrators," Huang said.
"They have reported the violence on the side of the police and that has shaped the public opinion in this country and shaped the politicians' views of what's going on in Hong Kong."
This question of ideology and human rights and governance should be an ace in the hole for the United States in the competition with China. And right now it's just not at allEly Ratner
Stephen Orlins, chair of the National Committee on United States-China Relations, added that the violent demonstrations were "basically unifying the people of China against Hong Kong, and it's kind of unifying the people of Hong Kong against the demonstrations".
More than 83.3 per cent of people blame the Hong Kong government for escalating violence in the city, 73.6 per cent blame the police and just over 40 per cent the protesters, according to an opinion poll for the period November 11 to 14 by the Hong Kong Public Opinion Research Institute.
Trump is reportedly keen to delay the passing of the bill in case it affects chances of sealing a trade deal with China, which would help de-escalate the 17-month trade war.
Trump's silence on Hong Kong was criticised by speakers at the event, with multiple panellists demanding he speak out against violence on both sides.
"I think as long as he is not leading on American values and the United States is not putting values forward, then it cripples the United States' ability to unite the international community to deal directly with China," said Ratner, the former adviser to Biden.
"This question of ideology and human rights and governance should be an ace in the hole for the United States in the competition with China. And right now it's just not at all."
Copyright (c) 2019. South China Morning Post Publishers Ltd. All rights reserved.