Hong Kong's leader is set to meet 150 city residents in Wan Chai next Thursday for her first Community Dialogue session, with participants banned from bringing umbrellas, gas masks or helmets - key accessories in the continuing anti-government unrest.
Protesters have called it a political show and expressed reluctance to attend as registration requires submitting personal details. Commentators meanwhile said that the event would do little to defuse Hong Kong's increasingly violent street demonstrations.
"The session will be an open dialogue platform aimed at reaching out to the public, and invites people from all walks of life to express their views to the government, so as to fathom the discontent in society and look for solutions," a government statement said on Thursday.
The two-hour event will kick off at 7pm inside Queen Elizabeth Stadium amid tight security, with the entire venue closed for the day.
Those wishing to attend must submit registration forms online or at inquiry centres between Thursday and Monday. Places will be allocated at random by computer.
The session is part of Chief Executive Carrie Lam Cheng Yuet-ngor's efforts to temper sizzling emotions in Hong Kong as the city's protest movement approaches its 16th week. It was among four initiatives she pledged on September 4 when she announced the scrapping of a contentious extradition bill that first sparked the turmoil in June.
Applicants must submit their name in the Roman alphabet as displayed on their identity cards, as well as the first four digits of their ID number, a telephone number and email address.
Any objects considered "a possible cause of nuisance, inconvenience or danger to others" will be prohibited by the organiser. The list includes "oversized items, loud hailers or sound amplifiers, umbrellas, defensive equipment such as mask respirators and helmets, flags, banners, bunting, and any plastic, glass or metal bottles, containers or cans".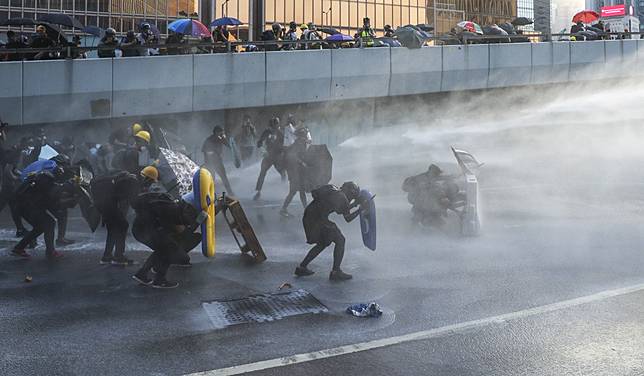 But the government said that all participants would be able to express their views regardless of political stance, and that its representatives would listen in a "sincere, open and inclusive manner".
Many users on chat forum LIHKG, which has served as an online command centre for protesters, were wary of signing up.
"It is silly to leave your name and information for the government to monitor you and retaliate. Let the pro-government camp take part in this PR stunt," one user wrote.
Another said: "It is only a political show. We have made clear our demands in previous demonstrations."
The protester was referring to four requests that remain unmet since Lam acceded to one by withdrawing the extradition bill. The others include launching an independent inquiry into police conduct during the protests and the implementation of universal suffrage.
Ivan Choy Chi-keung, a scholar at the Chinese University of Hong Kong, said protesters and their supporters would not be eager to take part since Lam had repeatedly rejected those four demands.
"I bet she hopes attendees will touch on livelihood issues such as housing, but these are not the root cause of the crisis," Choy said.
"The focus, especially for the first session, will be the expected clashes outside the venue."
Andy Ho On-tat, a former information coordinator for the chief executive's office under ex-Hong Kong leader Donald Tsang Yam-kuen, said the event would be a waste of time.
"There will be no focus but only fragmented arguments," Ho said.
The public affairs consultant suggested that each dialogue session be given a theme, with one looking specifically at political reform.
Copyright (c) 2019. South China Morning Post Publishers Ltd. All rights reserved.