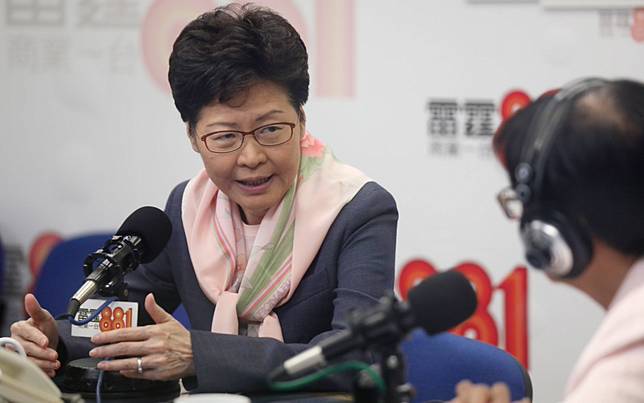 Hong Kong's embattled leader has hinted that she is open to the possibility of overhauling her cabinet after the months-long political crisis rocking the city dies down.
Chief Executive Carrie Lam Cheng Yuet-ngor on Saturday also addressed allegations of police brutality in the handling of the unrest, saying the government would not tolerate violent or unlawful acts, including from members in the disciplinary forces.
Lam was speaking on phone-in programmes on RTHK and Commercial Radio, when she was asked about reforming her team of advisers while explaining proposals unveiled on Wednesday in her policy address.
"I will not rule out the possibility, but I will decide when we have reached this stage," she said.
She doubled down on housing as the root cause of public grievances while defending initiatives in her policy speech, saying they were intended to help first-time homebuyers and were unlikely to cause substantial price increases.
Under one major initiative, the government-backed Hong Kong Mortgage Corporation (HKMC) will relax restrictions for first-time buyers, raising the lending cap to HK$8 million (US$1 million) from the current HK$4 million for people borrowing up to 90 per cent of the value of a flat.
For someone buying a home at HK$8 million, the initial down payment will drop to HK$800,000, compared with the previous HK$2.4 million, with the HKMC providing up to 90 per cent of the flat's value. But monthly mortgage payments would increase to HK$28,919, based on an effective mortgage rate of 2.625 per cent on a 30-year maturity loan.
On the RTHK programme, a woman phoned in and said the initiative would only cause property prices to go up.
"If my husband and I earn more than HK$70,000 a month, we still need to spend almost half of our monthly salary on (mortgage payments)," she said.
Lam responded that the mortgage initiative was intended to help high-income first-time buyers who can afford the mortgage payments.
"For other residents, we have a whole set of policies to help them … such as starter homes, public rental housing and subsidised housing units," she said.
"Hong Kong's economy will enter a technical recession in the third quarter of this year, and trade, retail and catering figures have been dropping significantly. I believe that the property market might not heat up under these circumstances."
In the policy address, Lam also said the Lands Resumption Ordinance would be invoked to take back sites being hoarded by developers and use them for housing.
Lam on Saturday dismissed suggestions she was trying to set local residents against developers.
"Land is very precious in Hong Kong … are we glad to see many land plots just idling there?" she asked.
On Friday, Chinese University president Rocky Tuan Sung-chi, under intense student pressure, condemned police for "any proven case" of brutality, saying he would urge Lam to launch an investigation into the treatment of about 20 arrested students.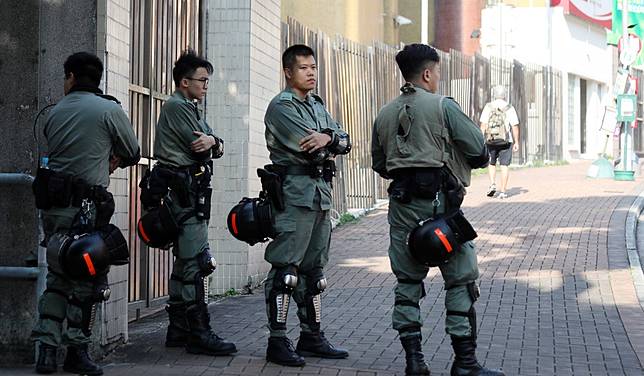 Asked if she would condemn alleged police brutality, Lam on Saturday said: "The government will not tolerate any unlawful or violent act, including by the police … But Hong Kong's rule of law also relies on people obeying the law, and the public should condemn people's attacks on other residents, and vandalism of shops."
Lam insisted that, rather than calling for a commission of inquiry on police behaviour, residents should wait for the Independent Police Complaints Council to complete its investigation into the protests and submit its report by the end of the year.
On a Commercial Radio programme, Lam also urged Tuan to encourage students to file their complaints through established mechanisms.
Lam again dismissed the suggestion that she take responsibility for the social unrest by stepping down. But she would not rule out reshuffling her cabinet, which includes both ministers and advisers, over the recent crisis.
Copyright (c) 2019. South China Morning Post Publishers Ltd. All rights reserved.