A fashion designer found guilty of carrying three petrol bombs in her backpack for a fellow demonstrator at an October protest was sentenced to a year in jail on Friday.
Wong Yuen-yu, 23, was one of thousands of anti-government demonstrators who took to the streets on October 13 in protest of the newly implemented anti-mask law - since held up in court proceedings.
She was arrested after occupying Kwong Fuk Road in Tai Po that evening alongside about 20 black-clad protesters. Police later found the bombs in her bag.
Wong, the fourth defendant to be sentenced over petrol bomb possession since protests broke out in June, pleaded guilty earlier this month to one count of possessing offensive weapons in a public place.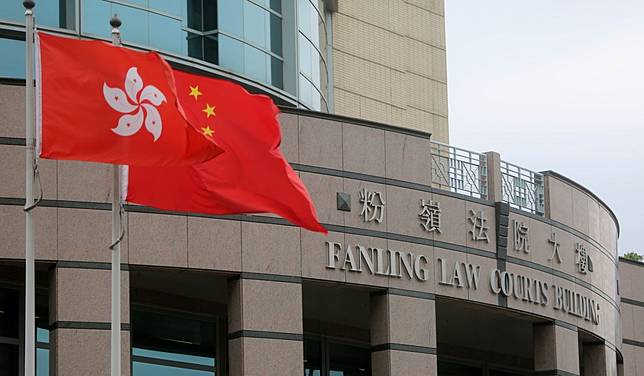 Passing sentence in Fanling Court, acting principal magistrate Don So Man-lung said immediate custodial sentence was both appropriate and mandated by law, despite her "clear and unblemished record".
"It was clear in her mind that the bombs were dangerous and life-threatening. She nevertheless chose to keep them and to carry them for other people to use," he said.
The court heard that Wong had obtained a first-class honour bachelor's degree from Polytechnic University, having been awarded six scholarships in four years. She was recruited by a reputable apparel company upon graduation.
Defence lawyer David Boyton said the defendant had only assumed a "backup role" in the protest, with no intention to injure anybody. He said she wanted to "give a hand" to another protester by holding on to the firebombs for him, but had no intention to use them.
"It was not premeditated. It was an instantaneous decision," he said.
In her letter to the court, Wong said she had repented of her crime during her three months of remand.
"I have learned deeply to be content, whatever the circumstances, to accept, understand and treat people of different voices humbly, to take civil responsibility to help the needy, and strive for justice in socially and morally acceptable ways," she wrote.
The magistrate shaved nine months off an original sentence of 21 months in recognition of her guilty plea and good background.
"Obviously, this young lady would have an otherwise promising future," So said at the sentencing, "However, from now on, she will feel pain and frustration looking at the application form every time she applies for a better job.
"She will feel the same when she needs a temporary work visa to attend or organise trade fair or shows overseas … This criminal record is thus particularly devastating to her."
Senior inspector Ning Ka-shing, of the police's Tai Po district crime squad, said the force has probed 30 bomb-related cases since June, resulting in 67 arrests.
Three other defendants charged with possessing petrol bombs have pleaded guilty and been jailed for 12 to 14 months.
Copyright (c) 2020. South China Morning Post Publishers Ltd. All rights reserved.