For several days, ethnic minority groups in Hong Kong were on edge, as fears grew of possible reprisals after a protest activist was attacked for a second time by men said to be of South Asian descent.
But on Sunday, they did not encounter any violence as volunteers came out by the dozens to look out for the ethnic minority groups at their favourite shopping centre, Chungking Mansions, and the nearby mosque in Kowloon.
As volunteers handed out water bottles to protesters and passers-by at the mall, however, further down the road, the Kowloon Mosque found its gates covered in blue dye after a passing police water cannon sprayed it with the solution.
Police reacted quickly to the mosque incident, posting on the force's Facebook page that the water cannon had "accidentally affected the entrance and front gate of the mosque" during a dispersal operation.
"The police have immediately contacted the chief imam as well as Muslim community leaders to clarify the situation and to show our concern," the statement said.
The incident prompted mixed reactions within the Islamic community. Muhammad Arshad, the chief iman of Hong Kong, said Muslims would "pray for the peace and security of Hong Kong".
But Muslim businessman Phillip Khan, who along with lawmaker Jeremy Tam Man-ho and others was sprayed outside the mosque, said it was a deliberate act and described it as an "insult to the Islamic religion".
Last Wednesday, Jimmy Sham Tsz-kit, convenor of the Civil Human Rights Front, was assaulted by four to five men believed to be South Asian. As a result, resentment against ethnic minority groups had emerged on social media, with some protesters calling for retribution.
In separate statements, Islamic and ethnic minority groups condemned the attack on Sham.
Arshad told the Post on Sunday that the interior of Kowloon Mosque was undamaged when the building was sprayed. He said there would be routine clean up at the mosque on Monday.
"(The) mosque was not targeted (by police or protesters)," he said. "From what I have seen, the mosque was closed and at that time the doors were closed. I think they sprayed water on the people, maybe protesters or press, but in the mosque there is no problem."
The Kowloon Mosque remained open on Sunday, though its gates were closed and visitors were admitted one by one.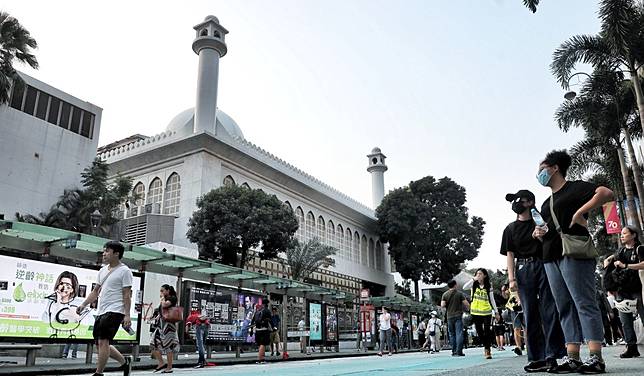 Arshad said a group of six or seven people were outside the mosque when it was sprayed.
"We were standing right outside the mosque. There were no protesters when the water cannon fired," said Khan, who was born in Hong Kong to a family from Pakistan. "I feel outraged. It was a serious insult (towards the Islamic religion) and I demand Carrie Lam condemn the police actions."
He said he would follow-up the incident by filing an official complaint to police. Online footage showed the police water cannon slowly moving towards Kowloon Mosque before spraying blue dye at its gates and steps.
Khan had earlier said he intends to run in District Council elections in November at the Tsim Sha Tsui West district.
A 29-year-old Muslim who refused to give his name said Muslims felt angry about the mosque spraying.
"It's no good that they sprayed blue dye. I really don't know why they did it when there weren't many people outside the mosque."
Others Muslims outside the mosque told the Post they were not angry over the incident.
People walking by, including protesters, helped clean up the religious centre.
In a statement on Sunday, the Civil Human Rights Front accused the police of failing to consider that the mosque is a place of worship in a statement yesterday.
"We regret Hong Kong police's lack of common sense and insensitivity to religion. We ask the police commissioner to give his sincere apologies to the Kowloon Mosque and Islamic Centre, religious communities and Hong Kong society," the statement said.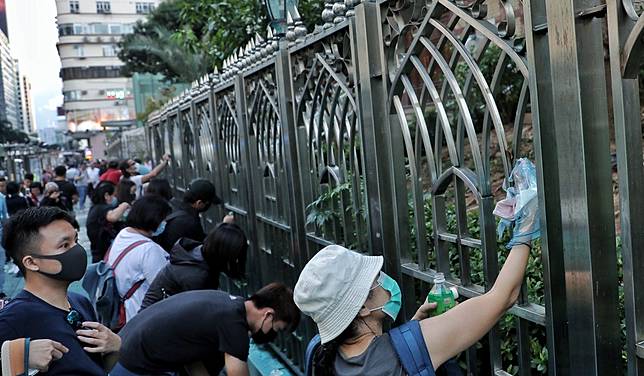 Earlier on Sunday, most shops in Chungking Mansions were closed with security guards citing potential damage from protests. Kumar Sahuteli, 43, a grocery shop owner in Chungking Mansions who came to Hong Kong from India 26 years ago, closed his shop on Sunday. He said "business was down 50 per cent because of the protests".
"Who would protect my foods and groceries if there was an attack on Chungking?" he said.
Some volunteers, including Jeffrey Andrews, a social worker of Indian descent who was born in Hong Kong, called for the ethnic minority community to hand out bottles of water to show solidarity with the protesters.
Andrews, 34, said his team spent several hundred dollars buying water because he wanted to show the positive side of the city's ethnic minority communities.
"We're all Hongkongers and we want to dispel the negative perceptions associated with our community," he said.
Kenny Lau, a retiree in his 60s, stood outside Kowloon Mosque with a sign in Chinese that said "do not disturb the mosque". He said he was there to protect the mosque claiming "undercover police would vandalise it" and blame it on the protesters.
"Our brothers and sisters know very well to not disturb the mosque," he said.
Copyright (c) 2019. South China Morning Post Publishers Ltd. All rights reserved.