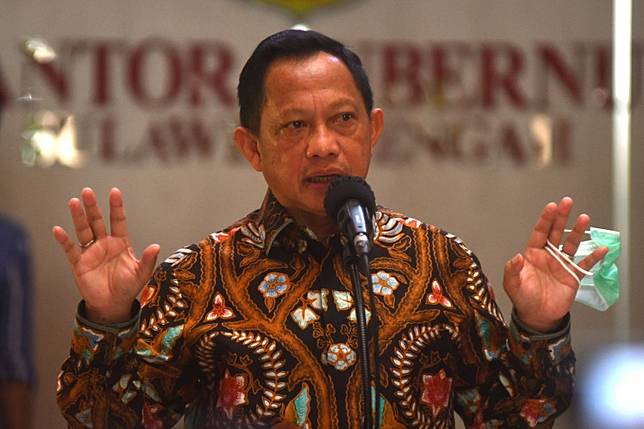 Home Minister Tito Karnavian is set to ban on-street and large-scale campaign rallies for candidates running in the upcoming regional elections this year due to the COVID-19 pandemic.
He also urged all parties to prioritize the implementation of health protocols at every stage of the race, highlighting that campaign events should not invite crowds that could heighten the risk of virus transmission.
"I and the General Elections Commission [KPU] will strictly ban on-street campaign rallies and convoys. Town hall meetings will also be limited to 50 people only," Tito said in a statement on Wednesday.
The Elections Supervisory Agency (Bawaslu) will fine any candidate who violates health protocols during any stage of the elections, which will be held simultaneously in the country's 270 regions, with voting day scheduled for Dec. 9.
Candidates were rather expected to use their political campaigns as a means to show their innovations and ideas in handling the impact of the pandemic, he added.
Read also: Majority of public wants regional elections delayed: Surveys
"We should build the big theme [for the campaign] together, [namely] the role of regional leaders in mitigating COVID-19 and its economic impact," Tito said as quoted by tribunnews.com.
In July, the KPU had urged candidates in the regional elections to refrain from hosting campaign rallies in person and instead take them online, especially if their constituencies still have a high risk of COVID-19 transmission.
The commission, however, allows candidates to host in-person rallies in locations where the infection rate has slowed down. But all in-person campaign events must be held in open-air spaces and under strict health protocols, which include physical distancing and not exceeding half of the location's maximum occupancy.
Candidates are also required to obtain permission from the COVID-19 task force in their region prior to hosting a campaign rally.
President Joko "Jokowi" Widodo conveyed his concerns that the election would spawn new clusters of the coronavirus, as people would gather in polling stations on voting day.
"Health protocols should be implemented at every stage of the regional elections. We should have elections that are safe from COVID-19. The most important thing is to assure voters that the KPU and the government are concerned about their health" Jokowi said on Wednesday. (nal)