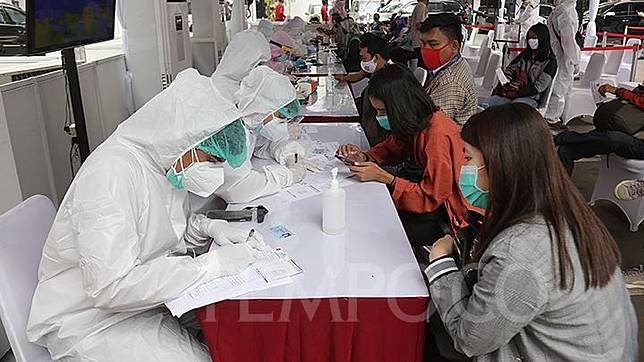 TEMPO.CO, Jakarta - Head of the Jakarta Health Agency Widyastuti said that the city could not work alone in containing the COVID-19 pandemic despite its recent increase in the capability to conduct testings. Supports from surrounding regions are needed, she argued.
"[This pandemic] will not end if it is only Jakarta that holds a massive test without support from surrounding regions," said Widyastuti in an online discussion on Thursday, August 6, 2020.
According to Widyastuti, the increase in new COVID-19 infections was attributable to the high mobility of people entering and exiting the capital city, especially after the reopening of several sectors as the transitional Large -Scale Social Restriction (PSBB) was enforced, which led to the increased infection rate in the past month.
Widyastuti recalled that when the city entered the transitional period last month, the infection rate was below 5 percent, which is the safe figure recommended by the WHO. While the current cumulative figure slightly jumped to 5.5 percent, and the weekly average rate even hit 7.4 percent.
"This surpasses the WHO standard, which means we must be more vigilant," she said.
Jakarta and surrounding regions must join hands to tackle the pandemic. "The main problem is how to synergize Jakarta with neighboring regions because Jakarta cannot work alone when there is high people's mobility," she said.
On the other hand, Widyastuti added, the public's discipline in complying with health protocols to prevent COVID-19 remained low, which was proven from the total fines collected by the city valuing more than IDR 2 billion.
"Not all people abide by the principles of wearing masks, washing hands, and keeping distance," she said.
TAUFIQ SIDDIQ