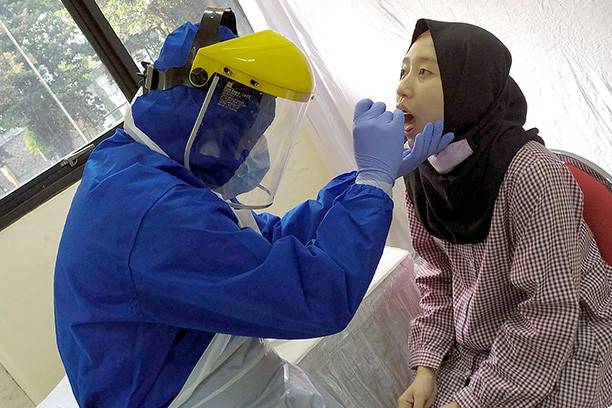 Jakarta reported 658 new cases of COVID-19 on Friday, the highest one-day spike since the first infections were recorded in March, bringing the total number of cases in the capital to 24,521.
The latest figure continues the trend of rising positive cases in Jakarta over the past few weeks following the city's decision to gradually ease restrictions and reopen businesses and offices under health protocols on June 4.
Jakarta's authorities, however, have said that the rise in positive cases in the capital is due to the administration's aggressive contact tracing of COVID-19-positive cases.
"Of the 658 positive cases, 98 were the accumulation of the previous day's data that had just been reported," Weningtyas Purnomorini, the head of health services at the Jakarta Health Agency, said on Friday.
Jakarta has conducted a total of 41,914 polymerase chain reaction (PCR) tests per 1 million people to date, with 43,330 people in the city having been tested over the past seven days.
As of Thursday, 15,201 infected people have recovered and 922 have died due to the respiratory disease, according to the Jakarta administration's official COVID-19 tally.
Read also: Discourse: Indonesia must go back to basics for COVID-19 recovery: UN official
The national COVID-19 task force recently revealed that office buildings had emerged as new clusters of coronavirus transmission, particularly inside those that lack ventilation or room for social distancing.
In Jakarta alone, 68 distinct office clusters had been found as of July 26, which included buildings belonging to public institutions, ministries and state-owned enterprises.
Tests also reveal an increase in COVID-19 clusters in Jakarta's houses of worship, where the positivity rate, which refers to the percentage of positive results from all tests conducted in a cluster, had reached 74 percent, according to an epidemiologist.
Jakarta Health Agency data from June 4 to July 28 shows there were 114 confirmed cases from clusters at nine houses of worship across the capital. Most of them were located in churches and mosques, with three clusters each and a total of 40 cases.
Jakarta Governor Anies Baswedan, therefore, decided to extend the transitional large-scale social restrictions (PSBB) until mid-August as the pandemic showed no signs of letting up in the city of some 10 million people.
The capital's positivity rate has hit 7.4 percent in the past week, above the figure recommended by the World Health Organization for relaxations, which is 5 percent or below. (vny)