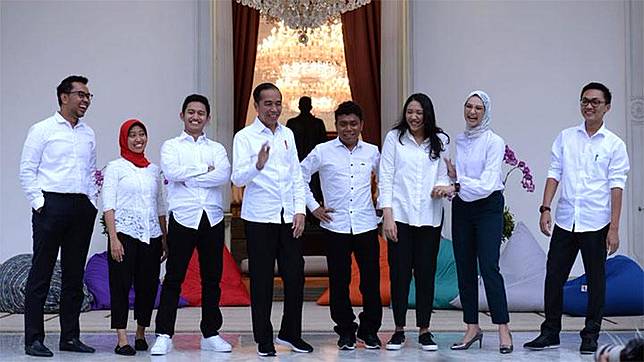 TEMPO.CO, Jakarta -President Jokowi had just announced his seven special staffs from millennials, which he said will help him in making an impact on Indonesia's younger generation. The president also mentioned that these specially-picked people will be his discussion partners.
"They will provide me with innovative ideas, sparking out of the box ideas that will help us achieve progress," said the president on Thursday, November 21.
Following yesterday's announcement, Jokowi now has a total of 14 special staffers for the 2019-2024 term, they are:
Angkie Yudistia, founder of Thisable Enterprise
Aminuddin Ma'ruf, former chairman of the Indonesia Muslim Students Movement.
Adamas Belva Syah Devara, founder of Ruang Guru.
Ayu Kartika Dewi, creator of Sabang Merauke movement..
Putri Indahsari Tanjung, CEO and Founder Creativepreneur.
Andi Taufan Garuda Putra, CEO Amarta.
Gracia Billy Mambrasar, A Papuan descent with an Oxford University scholarship.
Anak Agung Gde Ngurah Ari Dwipayana, academic.
Sukardi Rinakit, an intellectual, special staff of politics.
Arif Budimanta, an economist of Megawati Institute, a special staff of economic affairs.
Diaz Hendropriyono, PKPI chairman, a special staff of social issues.
Dini Shanti Purwono, PSI member with a Harvard degree, a special staff of law.
Fadjroel Rahman, a special staff of communication and commissioner of PT Adhi Karya (Persero).
Anggit Nugroho, the president's personal assistant.
MUHAMMAD HENDARTYO