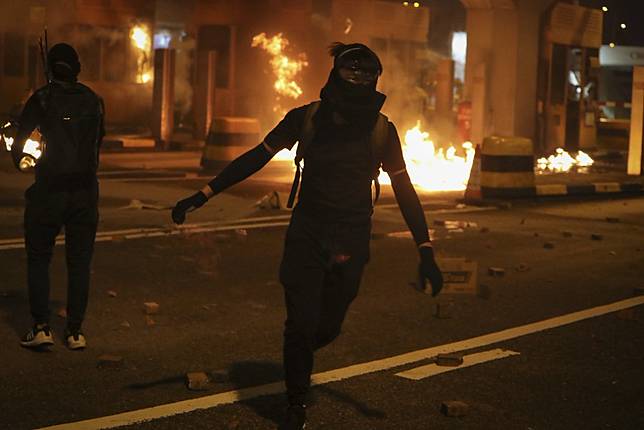 Hong Kong's Hang Seng Index is likely to underperform any other key gauge tracking China's onshore and offshore stocks in 2020, as the fallout from the months-long political unrest hits growth and corporate earnings, according to Morgan Stanley.
The benchmark of 50 stocks trading in the city may finish next year at 27,500, analysts led by Jonathan Garner at the US investment bank wrote in their 2020 strategy report for Asia's emerging markets. That implies a 1.5 per cent gain from its close on Tuesday. In comparison, the year-end targets for the CSI 300 Index of mainland-traded stocks, the MSCI China Index of Chinese companies trading on both onshore and offshore markets and the Hang Seng China Enterprises Index will see gains of at least 6 per cent from current levels.
"Key sectors in Hang Seng with sizeable exposure to Hong Kong's local economy such as financials and properties will also continue to suffer in 2020," the report said.
In a bear-case scenario, the Hang Seng Index may trade below a five-year low of 9 times estimated earnings for the following 12 months, against the current valuation of 10.1 times, the report added.
The ongoing anti-government protests, which started in June in opposition to a controversial extradition bill that has now been withdrawn, has plunged the city's economy into a technical recession in the third quarter, paralysing transport services, affecting businesses and scaring away tourists.
Morgan Stanley estimates a 1.3 per cent contraction in Hong Kong's economy this year and only a 0.5 per cent growth in 2020.
The bank has also turned cautious on China's onshore shares, downgrading them to equal-weight from overweight, citing slower pace of foreign buying and less appealing valuation.
Foreign inflow, a major push for the decent run on Chinese stocks this year, may recede as MSCI is likely to slow the process of increasing the weighting of mainland-traded shares in its benchmarks until concerns highlighted by global investors, such as lack of hedging tools and short settlement cycles, are addressed.
A 21 per cent rebound from a low on the valuation of the CSI 300 over the past year has made Chinese equities less attractive, it said.
"Going into 2020, we see pause or reversal of directions of the above catalysts for us to overweigh A shares in 2019," the report said. "In addition we see a few other reasons to believe that very sustained outperformance by A over offshore is unlikely."
Morgan Stanley recommends retailers and transport companies, betting the industries will benefit from the early stages of a recovery in China's economy, while avoiding utility and property sectors.
China's growth will probably rebound to 6.1 per cent by the end of next year from a low of 5.8 per cent in the first quarter of 2020, as the current level of finished goods inventories suggests restocking is in the offing, which will improve manufacturing activities based on historical data, the investment bank said.
Copyright (c) 2019. South China Morning Post Publishers Ltd. All rights reserved.