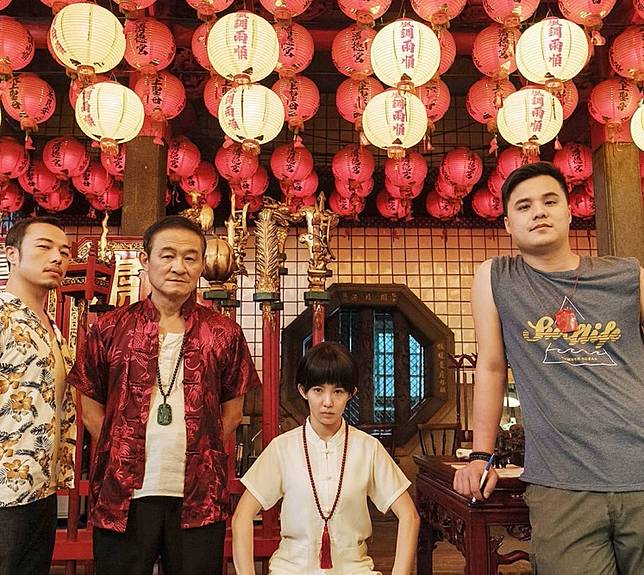 HBO Asia is going all out to promote the second season of The Teenage Psychic, one of its Asia original series.
For a start, the cable TV service has collaborated with several businesses and stakeholders to launch a massive promotional campaign.
One of the collaborations is with Taiwan's renowned pastry store Jiu Zhen Nan (舊振南), which will sell The Teenage Psychic branded mooncakes.
Also from Sept. 14, The Teenage Psychic-themed desserts and drinks are also available for redemption across all five Perfume Dance (跳舞香水) outlets.
To promote its original series The Teenage Psychic, cable TV service HBO Asia is launching a line of themed GIFs as well as Taiwan-exclusive mooncakes and beverages.
The outlets at the Mega City Mall (Banqiao) in Taiwan have also been transformed into the series' iconic drama club.
In addition, HBO Asia has launched a set of The Teenage Psychic GIFs for Facebook and Instagram users to use on their posts. About 15 GIFs can be accessed through the platforms' GIF search engines, ranging from Instagram stories and direct message to Facebook's messenger and comments section.
The Teenage Psychic is currently in its second season with a total of eight episodes. The season premiere on Oct. 6 at 8 p.m. featured two back-to-back episodes exclusively on HBO GO and HBO, with new episodes released every Sunday.
The series' first season won the Best Mini-Series (TV Movie) award and Best Supporting Actress in a Mini-Series (TV Movie) award at Taiwan's 52nd Annual Golden Bell Awards 2017.
Also released in conjunction was an HBO Asia Original documentary, The World Behind The Teenage Psychic. The documentary explored the distinct blend of Taoist, Buddhist, Chinese folklore and indigenous belief systems, which continue to flourish in modern-day Taiwan.
The Teenage Psychic centers around Xiao Zhen (Kuo Shu-Yao), a high school student with the ability to see spirits wishing to live a normal teenage life, juggling first love, academic success and peer pressure with the demands of the spirit world.
The Teenage Psychic is also the second returning HBO Asia Original series after Halfworlds.
Season two sees Xiao Zhen trying to pick up the pieces in the new school year following the tragedy she faced last year.
As the new president of the drama club, Xiao Zhen focuses on recruiting new members, however there is more to the two new members than meets the eye –– cute newbie Zhang Yuxuan (Fandy Fan) and soft-spoken Zhan Xiao Tong (Wen Chen-Ling). At the temple, things get complicated when Teacher Kim's (played by Chen Mu-Yi) family secret comes back to haunt him.