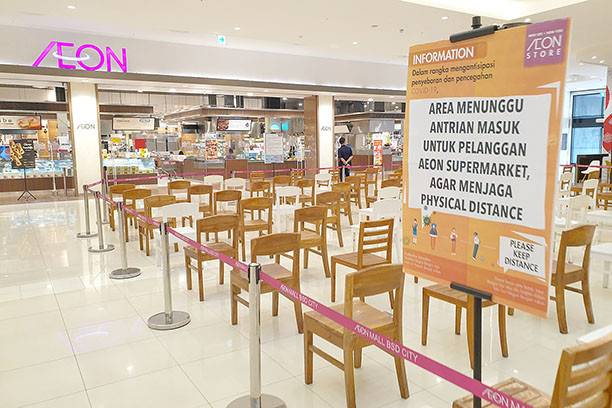 The Banten administration has decided to extend COVID-19 mobility restrictions in Greater Tangerang for the sixth time, until July 26.
Banten Governor Wahidin Halim announced the decision following a discussion of the efficacy of large-scale social restrictions (PSBB) with local leaders in Tangerang regency, Tangerang city and South Tangerang.
"We need more time for residents to fully adapt to new habits [that comply with health protocols]," Wahidin said on Monday.
Banten authorities will relax some restrictions during this extension of PSBB, particularly on activities with a low risk of virus transmission.
South Tangerang deputy mayor Benyamin Davine said the administration had decided to extend PSBB because many residents were still not complying with health protocols that would prevent the further spread of COVID-19. 
He said South Tangerang would only prepare for a "new normal" period – a phrase used to describe Indonesia's post-pandemic easing of restrictions – if 90 percent of the area's residents were complying with health protocols.
Read also: Jakarta, Bali prepare to welcome conventions despite rising COVID-19 cases
"However, we've made some exceptions, such as reopening places of worship as long as they adhere to the required health protocols," Benyamin added.
Despite the relaxation of some restrictions, governor Wahidin reminded residents to adhere to PSBB restrictions.
"We don't want the relaxations to cause residents to think that the situation has returned to normal and that they can behave like they did before the pandemic," he said.
As of Monday, Banten had recorded a total of 1,593 COVID-19 infections, with 81 fatalities and 1,090 recoveries.
The province has seen a decrease in new COVID-19 cases over the past two weeks, Banten COVID-19 task force head Ati Pramudji Hastuti said.
"Banten has also recorded fewer ODP and PDP [suspected cases] and COVID-19 patients being treated at hospitals. We also have higher recovery and testing rates," Ati said, as quoted by tempo.co. (nal)