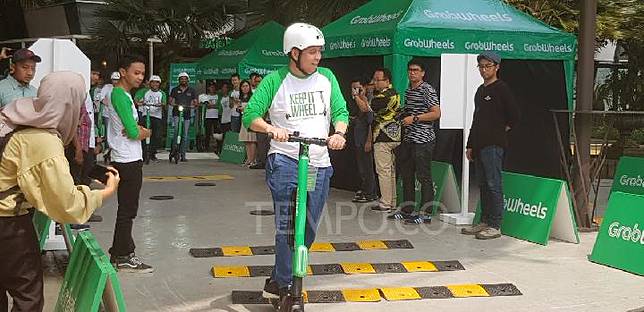 TEMPO.CO, Jakarta - Jakarta Transportation Agency suggested the operator of e-scooter Grabwheels provides the service in special areas, especially in Gelora Bung Karno (GBK) as to avert harm to other road users.
"We have already contacted the operator. If they want to operate, they are allowed to do so at Gelora Bung Karno. They can operate in that one area," said the agency head Syafrin Liputo when contacted by Tempo, Tuesday, November 12.
According to Syafrin, the city administration had permitted Grab to allow its scooter users to use the bicycle lane when passing main roads.
Grab as the operator was called in following a viral photo circulated on social media showing users operated the modern transportation mode in a pedestrian bridge (JPO) located in front of a shopping mall Fx Sudirman.
An Instagram account of Jakarta Bina Marga Agency @binamargadki posted several damages on the pedestrian floor caused by the e-scooter operation. The users even blocked the bridge to take pictures and rest, albeit there was a sign that restricted the use of e-scooter in JPO.
In addition to the recommendation, Jakarta planned to issue a regulation on e-scooters in the wake of the rampant use of Grabwheels in recent months in the capital. "Hopefully, the policy will be completed next month. We are still discussing it," Syafrin said.
Syafrin further stressed that his party would tighten supervision on the operation ofe-scooters in sidewalks and pedestrian bridges.
ANTARA