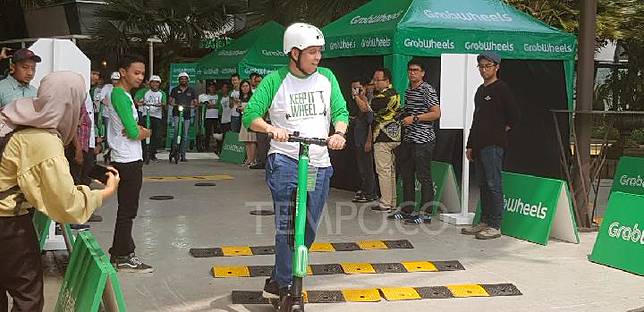 TEMPO.CO, Jakarta - Grab Indonesia has launched its latest short-distance transportation service which takes the form of electric scooters dubbed as Grabwheels. The ride-hailing firm announced the scooters' availability in Jakarta, Bogor, Depok, Tangerang, and Bekasi.
As of Jakarta, Grab Indonesia has partnered with state-owned PT Bank Rakyat Indonesia (BRI) to establish the scooters' first station located at BRI main headquarters' park and will be followed by other BRI branch offices in the city.
The e-scooter boom has been responded by the city's administration classifying it on par with bicycles. This effectively mandates its use to be operated on bicycle paths.
"Despite it being powered by an electric motor, but it is specified as a small means of transportation," said the head of Jakarta's transportation agency Syafrin Liputo on Thursday, October 17, 2019.
Renting one of the Grabwheels electric scooters can be done through transactions via QR code within the Grab mobile app and is charged by the half-hour it is used. The little e-scooters are able to travel as fast as 20 to 25 kilometers an hour.
INGE KLARA SAFITRI