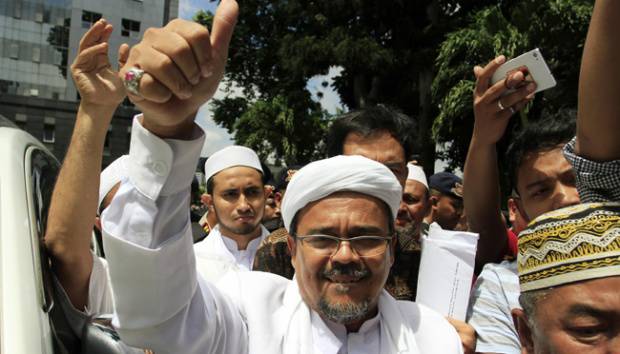 TEMPO.CO, Jakarta - Coordinating Minister for Political, Legal, and Security Affairs Mahfud Md said that based on the law, the government could not impose a travel ban toward FPI leader Rizieq Shihab for more than six months. He suspected that Rizieq was in trouble in Saudi Arabia.
If it was true, Mahfud said, the government was willing to help Rizieq settle the matter. "We'll help if there is an issue, we'll help," he reiterated at the State Palace complex on Tuesday, November 12.
He questioned Rizieq Shihab's accusation saying that the Jokowi administration asked the Saudi government to halt Rizieq's return to the home country. The minister asked for the proof of the official travel ban issuance previously shown in a video. "Please send me the original or the copy [of the letter]," said Mahfud.
The document circulated on social media states that Rizieq cannot leave Saudi Arabia due to a security reason. However, Mahfud said that it could not be proven if the ban was requested by the Indonesian government as the minister claimed, after a thorough check, that there was no ban issued by related parties.
"Based on the law, the travel ban [valid] for [the longest] six months. […] meaning that the problem is in the Saudi government, not in the Indonesian government," he said.
The video published by FrontTV on YouTube, Rizieq showed two pieces of papers he claimed as the issuance of the ban to return to Indonesia. "These two letters are real, authentic proofs that I am banned by the Saudi government as per the request of the Indonesian government," he said via a teleconference on November 8.
The Muslim cleric said that the Saudi government could not let him leave the country due to a security reason, claiming that it was requested by the Indonesian government. Rizieq said he had never committed any criminal or civil violations.
Rizieq viewed that the Indonesian government wishes him to not come back home especially during the 2019 Election, saying that he could be a threat to the Indonesia government and stopped the fraud in the election.
He further said that the Saudi government was ready to revoke the travel ban if the Indonesian government provide a guarantee for his repatriation. Rizieq explained to Saudi that he was safe to go home but the Saudi government was still unsure.
"They have yet to revoke the ban as they seemed to cannot accept the reasons," he said.
Rizieq Shihab has been staying in Mecca, Saudi Arabia, since mid-2017, following his steamy chat case. He did not come back to Indonesia, albeit the police dropped the case in June 2018.
Ahmad Faiz Ibnu Sani