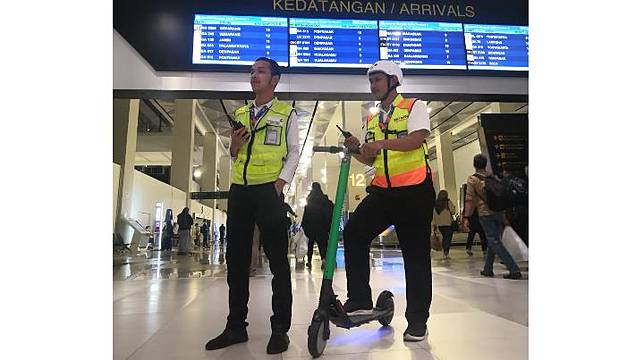 TEMPO.CO, Jakarta - Director-General of Land Transportation Budi Setiyadi suggested the applicator of the electric scooter or e-scooter GrabWheels temporarily suspends the service until the issuance of the regulation by the local administration.
Budi also recommended the regulator to design specific spaces while drafting the policy, given the alternative transport mode could not be operated in highways or sidewalks.
"Jakarta provincial administration must think about special lanes [for the e-scooter]," said Budi at Parliament Complex, Senayan, Jakarta, on Wednesday, November 13.
Previously reported, two e-scooter riders were hit by a car near the FX Sudirman area, Jakarta, on November 10, at dawn. In addition, several others were injured. The incident went viral on social media.
Budi said the Ministry of Transportation did not regulate the use of otoped belonging to Grab Indonesia or Grabwheels. According to him, the authority is in the hands of the local government or governor.
"GrabWheels is not classified as motorcycles, so it is not ruled under Law No. 22/2009. We will leave the regulation to the local administration, for example, on the route," Budi added.
Budi ensured that the local government including Jakarta was discussing the rules for the use of scooters, which will be issued in the form of gubernatorial regulations or regional decree.
GrabWheels CEO TJ Tham confirmed the incident and said his firm had contacted the victims' family. "Our priority now is to provide full support and assistance needed by riders and their families," he said.
Tham asserted that Grab would commit to improving the security of the e-scooter operation by educating costumers and work with related parties to maintain safety.
FRANCISCA CHRISTY ROSANA