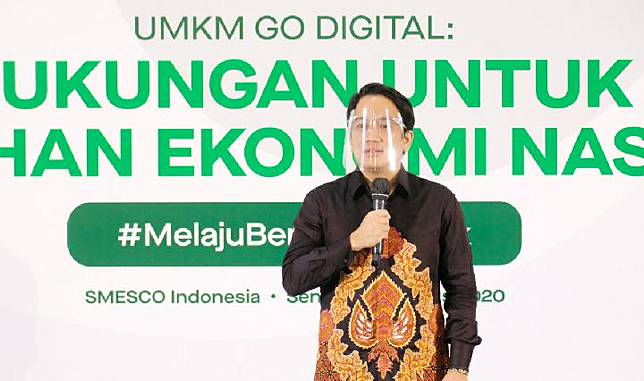 TEMPO.CO, Jakarta - Through #MelajuBersamaGojek initiative, Gojek provides inclusive business-solutions that support micro, small, and medium enterprises' digital transformation.
In commemoration of the Indonesian MSME National Day on August 12, 2020, Gojek launched the #MelajuBersamaGojek (Go Forward with Gojek) initiative as an inclusive and comprehensive solution for micro, small and medium enterprises (MSME) to go digital.
The initiative covers all the efforts and technology provided in the super app's ecosystem to help digitize MSMEs, from marketing, order processing, payment, delivery, to administration. Gojek Co-CEO, Andre Soelistyo said that these solutions can be used directly by all types of enterprises, either small or big.
In fact, apart from providing comprehensive solutions for MSME such as GoSend and GoBox delivery service, Gojek also collaborates with various other parties including payment partners such as QRIS and LinkAja, and logistics providers Pos Indonesia, Paxel and JNE.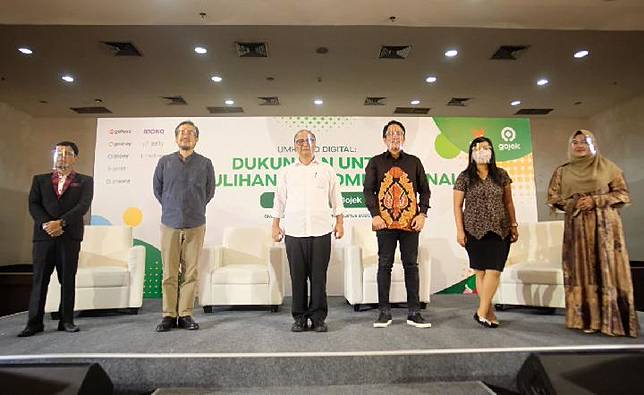 Andre said that MSME development has been in Gojek's DNA since the start. In this challenging period, Gojek continues to create comprehensive, inclusive and easy solutions to help these businesses stay resilient and grow.
"We are driven by the spirit of mutual cooperation in helping MSMEs through collaborating with many parties, especially the government and other institutions with similar missions, bringing the small enterprises to the next level," said Andre.
Minister of Cooperatives and Small Medium Enterprises (SMEs), Teten Masduki, represented by Human Resources Development Deputy, Arif Rahman Hakim, said that by joining the digital platform, those businesses can potentially adapt quickly. Currently, only 13 percent, or equivalent to 8 million businesses, are digitally connected.
"Through the launch of #MelajuBersamaGojek, I hope this digitalization process can create 10 million digital MSMEs until the end of the year as targeted by the government," he stated.
Gojek's strategy is appreciated by the Indonesian Minister of Finance, Sri Mulyani Indrawati, represented by Assistant Minister for Tax Supervisory at the Ministry of Finance, Nufransa Wira Sakti. According to him, during the Covid-19 pandemic, MSME will always be put as a priority to sustain the economy.
"I hope great innovations and solutions created by various digital platforms including Gojek to help MSMEs in adopting technology and transforming their businesses can be conducted continuously," he stated.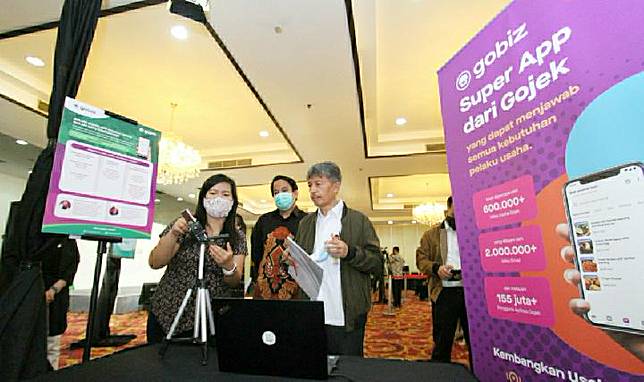 The #MelajuBersamaGojek initiative is marked by the launch of www.melajubersamagojek.com web page which can be accessed by all MSMEs owners across the nation. On the website, entrepreneurs can browse through a range of solutions provided by Gojek's ecosystem to solve their problem. They will also be given questionnaires to identify the most suitable solution.
Gojek's digital solutions for MSMEs include Selly, a keyboard and dashboard app to help MSMEs in managing their customer service; MidTrans Payment Link, a comprehensive payment service for online businesses; GoBiz, an all-in-one app for online business management, Moka, online cashier application and cashless payment tool; GoSend, GoBox, GoPay, GoFood, and GoShop.
Beside technological solutions, Gojek also supports MSMEs through training programs and capacity building, such as Gojek Wirausaha, Go-Nusantara, Komunitas Laris Manis GoSend, and Komunitas Partner GoFood (KompaG).
Through Gojek's end-to-end solutions, Gojek can help speed up MSME transformation from offline to online business, enabling greater contribution to Indonesia's economy.
INFO TEMPO