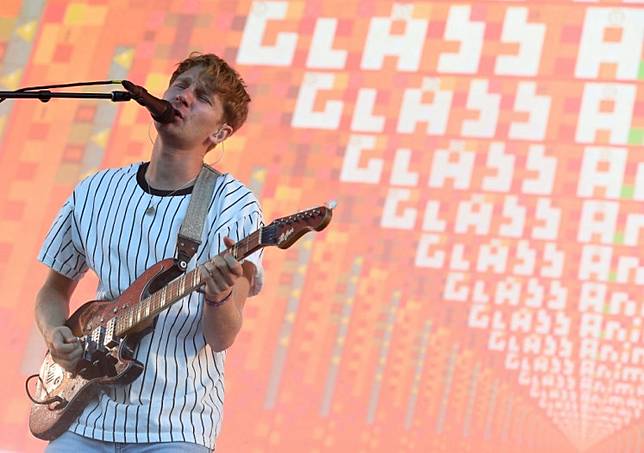 The British four-man psychedelic pop/indie rock band Glass Animals just came out with its third studio album Dreamland after a two-year hiatus due to an accident drummer Joe Seaward had with his bike colliding with a lorry that left him with a fractured skull and broken leg.
It was during Seaward's recovery that front man Dave Bayley wrote Dreamland.
"I didn't know if Joe was going to survive, or recover," said Bayley to The Independent. He studied neuroscience at university and understood what had happened to his childhood friend. "In a time like that, all you can seem to do is start thinking about the past."
Centering on the theme of nostalgia, the band kicked off its Déjà Vu tour in small venues on February 25 in Washington D.C.'s U Street Musical Hall. The band was supposed to finish up its last concert on June 16 but the tour was halted mid-March due to the coronavirus pandemic.
Back in England, the band continued online promotions for Dreamland, initially scheduled for release on July 10 but postponed to Aug. 7 to continue the focus on the Black Lives Matter movement, with Bayley saying "the fight for civil rights is so much bigger and more important than any single piece of music" on Instagram.
Now the album is finally out with 12 songs and four audio clips from Bayley's childhood home movies. Five of the songs on the album have been pre-released and some have been played live on their Déjà Vu tour.
Described as the "most personal, most difficult" record Bayley has ever done, the album strays from the band's previous two, with debut album ZABA being inspired from children's books and sophomore album How To Be A Human Being from stories that other people told the band. The record has songs that describe Bayley's relationships with friends, family, romantic partners, as well as the socialized foundations he grew up on.
The album name and title track "Dreamland" starts with a soft, childlike melody, indicating the ambience of the song to be reflective and sentimental. The track is meant to be an outline of the album, picking lyrics from the other songs while also having listeners catch a glimpse of Bayley's childhood.
Tracks like "Tangerine", "Hot Sugar", "Melon and the Coconut", among other songs, speak about failed relationships.
With the beginning of a romance being too curated, "Waterfalls Coming Out of Your Mouth" speaks of how people in early stages of relationships are not themselves and constantly lying.
The end of something is captured in "It's All So Incredibly Loud" that pivots on only three seconds of life: the silence between when you tell someone something that "will absolutely devastate them" and their reaction, which Bayley described as the most deafening thing he has ever experienced.
Bayley's childhood permeates "Space Ghost Coast to Coast" and "Domestic Bliss" with the former being his childhood best friend back in Texas, who tried to bring a gun on the first day of high school. The song talks about their childhood listening to hip-hop and playing video games but also darker aspects like being raised in a toxic masculinity culture. Bayley questions whether being surrounded by violence as young boys played into his friend's actions.
The latter song talks about Bayley's childhood friend's mother who was abused by her husband. In an interview with NME, Bayley said he was too young to realize what was happening and "why she had blood on her nose." In a time when most are in lockdown, Bayley also highlights that domestic violence has risen.
The album wraps up with "Helium", which, in a similar vein to "Dreamland", encapsulates everything that has been said in the previous songs and ends with the same tune as "Dreamland", placing it in full circle. (wng)
------------------
The writer is an intern at The Jakarta Post.