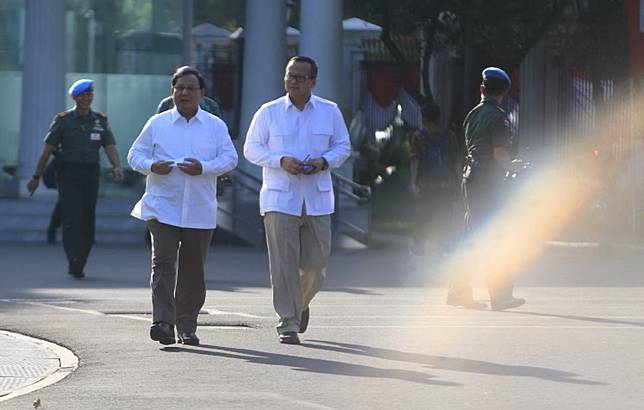 Gerindra Party chairman and losing presidential candidate Prabowo Subianto has stated he is ready to join the Cabinet in the second term of President Joko "Jokowi" Widodo's administration following a closed-door meeting at the State Palace on Monday.
Wearing a white shirt, just like others who met Jokowi at the palace on Monday, Prabowo arrived accompanied by Gerindra deputy chairman Edhy Prabowo. Edhy was touted by the party as a potential candidate for a ministerial seat should Jokowi decide to include Gerindra in the Cabinet.
"I have told the President that the Gerindra Party is ready to assist him should he need our help. He officially asked us to strengthen the Cabinet and we agreed to help him," Prabowo told journalists on Monday afternoon.
The two-time presidential candidate also added that Jokowi allowed him to mention that he would help the President in the defense sector.
"I will work as hard as I can to reach the determined target," Prabowo further said.
Prabowo and his running mate Sandiaga Uno lost against Jokowi and Ma'ruf Amin in the 2019 presidential election in April. Jokowi and Ma'ruf secured 85 million or 55.5 percent of the vote while Prabowo, a former general, and Sandiaga came in second, garnering 68 million or 44.5 percent of the vote.
The Jokowi Mania volunteer group earlier claimed Jokowi had confirmed Gerindra would be represented in the upcoming Cabinet.
Apart from Prabowo, Jokowi summoned a number of high-profile figures to the State Palace on Monday, including former Constitutional Court chief justice Mahfud MD and Gojek founder Nadiem Makarim. Both conveyed their readiness to join Jokowi's second-term Cabinet. (kuk)