Off-duty MTR station officer Kwok Chi-keung was stunned when he ran into three youngsters on the streets of Sheung Shui, who without warning unleashed a torrent of abuse at him. "You dead blue ribbon! F…"
It was just another day in August. He stood there stupefied and it took him a while to remember that his personal information had been put on social media, exposing him to the possibility of verbal attacks.
Kwok, 53, is a deputy chairman of the Hong Kong Railway Employees Union, a sub-group of the pro-Beijing Hong Kong Federation of Trade Unions (FTU). He was called a "blue ribbon" after he criticised on Facebook the escalating anti-government protests which have rocked Hong Kong.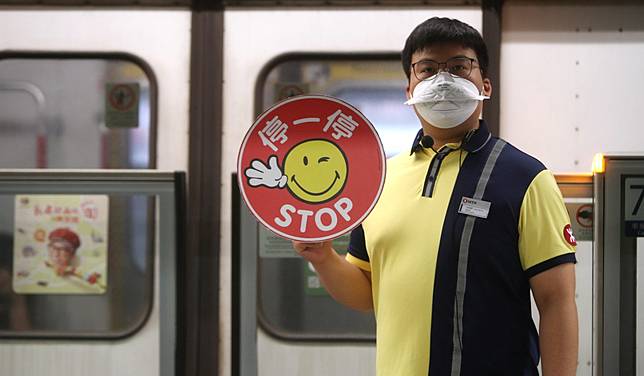 "Blue ribbon" refers to someone who is pro-police, and is widely used in the context of wide sections of society harbouring deep anger towards officers over their use of force against anti-government protesters, who are called "yellow ribbon".
He felt he was verbally attacked for no reason. "Is this some kind of bullying simply because of my position at the union? But our union is apolitical. We are just trying to safeguard the welfare of the MTR staff," he said.
Kwok's bitter experience was just one of the many incidents encountered by frontline rail staff over the past two months who felt they were forced to carry the can of people's anger against the government and police.
All of a sudden, the MTR Corporation, which provides train services to the city's commuters, has been embroiled in the rising turmoil, though its staff and passengers do not have anything directly to do with the political struggle.
Protesters have recently attempted to cripple train services across the network on several occasions during their anti-government demonstrations.
On August 5, the day of the citywide strike, the protesters obstructed train doors from closing, damaged emergency buttons on platforms and hurled objects onto the tracks to disrupt normal train services. On Saturday, protesters announced they would restart their uncooperative campaign from August 21.
They also said they would step up their agitation if the MTR Corp failed to give a satisfactory account by September 2 on why police were allowed on their premises.
There have been several incidents of protesters descending on MTR stations demanding answers to why police were give access to the areas.
On the night of August 11, police fired tear gas inside Kwai Fong MTR station and pepper balls inside Tai Koo station. Riot police also charged at the protesters along a moving escalator at Tai Koo station.
Kwok said both the passengers and protesters have on occasions scolded their frontline staff, with some fearing for their safety for being wrongly implicated in the clashes.
"Our staff have been caught in the middle. If you ask the protesters to leave, they will hurl abuses at you. And if you let them block the train doors, the passengers will complain about your inaction," he said.
"Many staff feel being victimised. We are just grass roots workers who maintain the train service. Why are we being dragged into this political storm?" he asked.
Kwok said some of their staff also posted anonymous messages on Facebook, asking protesters to vent their anger by besieging the headquarters of the MTR Corp or the government instead of ambushing rank-and-file staff.
"Why do the protesters target the MTR? Because the government is the majority shareholder? The protesters may think their uncooperative movement will pile pressure on the government. But in reality, it only causes inconvenience to the commuters," he said.
Tam Kin-chiu, vice-chairman of the pro-Beijing Hong Kong Federation of Railway Trade Unions, also said his personal information including his mobile phone number was posted online late last month.
A rail driver, Tam said he had since received numerous anonymous phone calls, some after midnight, and was also called by a financial agent inquiring if he had applied for loans.
"Somebody has surely misused my personal information to make a loan application, which is why the agent called me for document verification," he said.
"I don't worry about myself. But, I am worried they will harass my family members. Luckily, I haven't disclosed any information to anyone concerning my family," he added.
Tam said the protests had deeply fractured the MTR Corp's employees into two opposing camps. "In the past, we were like a big family and we treated each other as brothers and sisters. But recently, we had some heated arguments with our colleagues over police's use of force while having meals together," he said.
Some 700 frontline staff have also come forward to denounce police action. Last week, they signed a petition urging the MTR Corp to condemn police for using tear gas inside MTR stations, endangering the safety of both the staff and passengers.
At Kwai Fong station on August 11, two drivers also fell sick after accidentally inhaling the toxic gas.
Kwai Tsing district councillor Leung Chi-shing, who drives the rail on the Tsuen Wan line, was among those who signed the petition. He also criticised police for firing tear gas inside the MTR station.
Leung cited the example of the night of August 14 when police fired rounds of tear gas outside Sham Shui Po Police Station against protesters who were praying for blessings while celebrating the annual Hungry Ghost Festival.
The driver of a train which was passing through the area also felt his eyes and skin were burning because of the gas.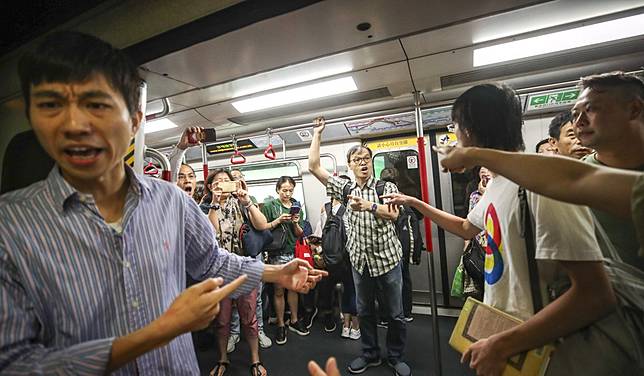 "He felt a stinging and burning sensation to his eyes and skin. His vision is still blurred and he is on sick leave. Some colleagues at the Prince Edward station could smell the toxic gas till next morning," he said.
"I think police have been going too far in dealing with the protesters. I understand they have to enforce the law. But they also need to ensure that others are not harmed by their action."
To Kwong-yan, chairman of the MTR Corporation Staff Union under the pro-democracy Confederations of Trade Unions (CTU), also questioned if the uncooperative movement had barked up the wrong tree.
"The non-cooperation movement is intended to pile pressure on the government. But, it has only affected the passengers and increase the workload of the frontline staff. I think the protesters have targeted the wrong group of people," he said.
"The protesters should not disturb the rail service. They should direct their efforts towards specific and particular courses of action, such as pursuing justice for the innocent parties who have been assaulted or wrongly arrested. Disrupting the rail service won't yield any results," he said.
Copyright (c) 2019. South China Morning Post Publishers Ltd. All rights reserved.