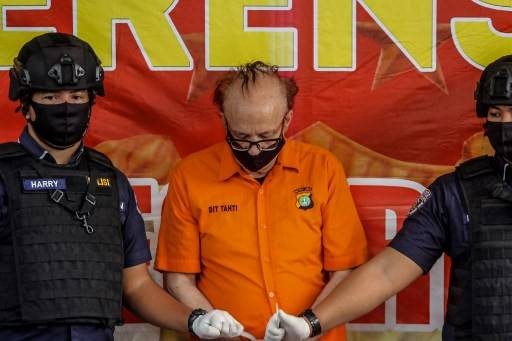 A French citizen who was recently arrested for allegedly molesting over 300 children died on Sunday evening following a reported suicide attempt while in detention in Jakarta, the police have said.
Jakarta Police spokesperson Sr. Comr. Yusri Yunus said an officer who was on patrol in the detention center last week found Francois "Frans" Camille Abello, lying in a weak condition with a cable tied around his neck on Thursday evening.
"[Frans] attempted suicide by using the cable," Yusri told journalists on Monday.
He was immediately transferred to Kramat Jati Police Hospital in East Jakarta, where he spent three days undergoing medical treatment before he died on Sunday evening at around 8 p.m., Yusri said as reported by kompas.com.
Frans, a 65-year-old retiree, was arrested last month at a hotel in Taman Sari district, West Jakarta, where the police found two underage girls in his room.
Read also: French pedophilia suspect targeted street children, kept videos of his sexual activity: Police
He had allegedly molested at least 305 Indonesian minors for years, most of whom were street children, though the police believe that there may have been more victims. Authorities have so far identified at least 17 victims, whose ages range from 10 to 17 years old.
According to the police, Frans used to lure his victims by approaching them on the streets and offering them work as models. He later brought his victims to his hotel room, took their pictures and molested them. Those who refused to have sex with him were physically assaulted.
The suspect also installed a hidden camera in the room to record his sexual activity with the children.
During his arrest, the police confiscated a laptop used to store the recordings -- on which the police found at least 305 recordings of different victims -- 21 items of clothing that were worn by the victims, six memory cards, 20 contraceptives, two vibrators and six cameras.
Frans faced the death penalty, a minimum of 10 years or a maximum of 20 years in prison under the Child Protection Law. (afr)