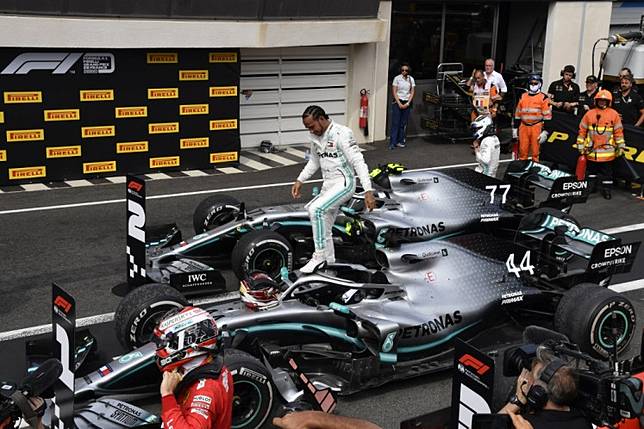 Formula One will go ahead with the Singapore race this weekend as the city remains partly covered in ash and smoke sweeping in from illegal burning of forests and farm land in neighboring Indonesia.
The air quality level in the city-state remained unhealthy for a second day with the National Environment Agency warning of hazy weather conditions in the next few days. But Formula One Group Executive Chairman and CEO Chase Carey said the Grand Prix event will go ahead as scheduled.
Malaysia closed 296 schools in Kuala Lumpur on Thursday, while 939 schools in Selangor state will remain shut through Friday, the state education departments said in separate statements. Authorities have closed about 2,500 schools in total, affecting almost 2 million students, as Kuala Lumpur and Kuching in Sarawak were among the world's most polluted cities.
With the menace of haze sparking a surge in demand for masks, Malaysian authoriteis capped the price to prevent profiteering. The price of N95 masks was set at a maximum 100 ringgit ($24) a box, or 6 ringgit each, according to the domestic trade ministry.
The number of hotspots in Indonesia jumped to more than 4,000 on Thursday, sending a stinging layer of smoke and ash from illegal burning to clear land for plantations to parts of Southeast Asia. While Indonesia has stepped up efforts to douse the fires, an unusually prolonged dry spell has worsened the haze in recent weeks, causing air traffic disruptions and serious health concerns.
The country has more than tripled the number of firefighters to 29,039, drawn from the military, police and disaster mitigation agency with the help of 44 helicopters, according to the National Disaster Mitigation Agency. Authorities have named more than 200 companies and individual farmers as responsible for starting the fire.
While no estimates are available on the extent of losses from the haze this year, a total of 2.6 million hectares of land was affected in 2015, costing Indonesia $15.7 billion in economic losses.