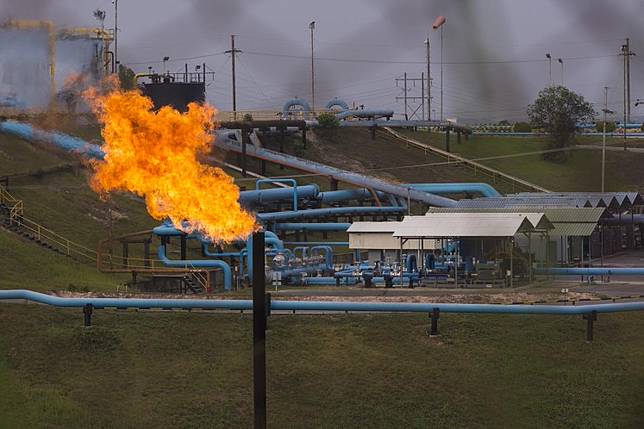 The Riau Police have arrested five individuals in separate locations across the province for allegedly tapping into an oil pipeline owned by PT Chevron Pacific Indonesia, the local subsidiary of United States-based oil and gas giant Chevron Corporation.
The five suspects ─ identified only as JH, DP, HT, BS and NS ─ were suspected of siphoning oil from the company's pipeline for two years, Riau Police chief Insp. Gen. Agung Setya Imam Effendi told journalists on Monday.
The police said an investigation had revealed that the suspects had siphoned off 349,000 liters of crude oil. The illicit practice caused more than Rp 1.9 billion (US$135,172) in losses.
"We arrested them over two months," Agung said on Monday.
According to the police, each suspect allegedly played a different role in stealing the oil.
The police allege that DP served as the field coordinator and looked for a location to tap into the pipeline, JH supplied the equipment for tapping and NS drove the truck used to transport the stolen oil, while HT and BS tapped into the oil pipe.
JH also rented a coffee shop on intercity highway in Kota Garo village, Kampar regency, which is located 100 meters from the oil pipe, and a tunnel was reportedly dug to connect the coffee shop and the pipeline.
Read also: House calls on govt, Pertamina to crack down oil theft
Oil was then siphoned off using an underground pipe the suspects reportedly installed. The oil was transported using a 12,000-liter fuel truck parked at the coffee shop.
"This was an organized crime. The suspects allegedly paid local residents up to Rp 25 million to prevent the latter reporting the crime," Agung said.
Read also: House calls on govt, Pertamina to crack down oil theft
The police said the tapped crude oil was brought and later sold in Palembang, South Sumatra, and in Padang, West Sumatra, among other cities.
Besides detaining the suspects, the police also seized two fuel trucks, iron pipes and a pump  used to pump the oil into the trucks' tanks.
"We have charged them under Criminal Code, Article 363 on theft and Article 480 on selling stolen goods, which carry a maximum sentence of seven years. We will also investigate them for possible money laundering," Agung said.
The police chief added that investigators were still looking for two other people suspected of collecting the crude oil and digging the underground tunnel. (kuk)