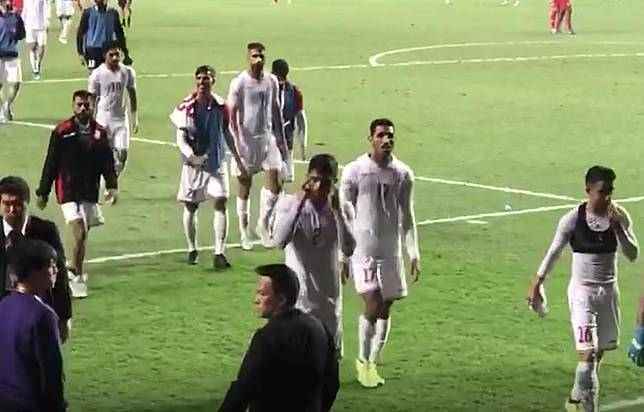 ● Fifa confirms proceedings have been opened against Sayed Baqer
● Bahraini player made gesture following goalless draw in Hong Kong last week
World football governing body Fifa has opened disciplinary proceedings against the player who allegedly directed a racist gesture towards home fans during Hong Kong's Fifa World Cup Qatar 2022 qualifier against Bahrain on November 14.
Video footage appeared to show Bahraini defender Sayed Baqer directing the slant-eyed gesture towards jeering Hong Kong supporters right before leaving the pitch. The group C match ended 0-0.
A Fifa spokesperson told the Post on Wednesday: "Disciplinary proceedings have been opened against the player in relation to this matter."
The Hong Kong Football Association (HKFA) responded to the statement: "HKFA received the match commissioner report from the game and there was no mention of any incident. Therefore HKFA will report the matter."
Baqer, a 25-year-old defender who plays club football for Al-Nasr SC in Kuwait, appeared frustrated at the time-wasting tactics employed by some Hong Kong players as the game drew to a close. A small fracas broke out after the final whistle causing home fans to jeer the opposition players as they left the field.
Following Hong Kong's 2-0 win over Cambodia on Tuesday - before Fifa's statement was released - coach Mixu Paatelainen did not comment on the incident itself but shared his thoughts on respect in football.
"I don't want to discuss specific incidents, but all in all, we need to respect each other (and) the opponents," said the Finn, who earned his first win since becoming Hong Kong boss in April. "Yes, we try to get the better of them but we respect them and we should always behave accordingly, that's for sure.
"Nobody wants to see aggravation out there - sometimes that happens. I call it handbags, and the boys had their handbags out and had a couple of swings, that was it."
"The bottom line is that you always respect the opponent, respect the officials, respect the fans, and everybody involved," Paatelainen added.
Fare Network, an anti-discrimination watchdog in football, confirmed they have submitted a report of the incident to Fifa. Fare does not play a part in any disciplinary proceedings - its remit is limited to submitting reports and evidence to disciplinary bodies such as Fifa and Uefa.
"The gesture made by Bahrain's Sayed Baqer at Hong Kong fans is one of the most common forms of racism against East Asian people and it is largely under-reported and unacknowledged," said Fare's executive director Piara Powar.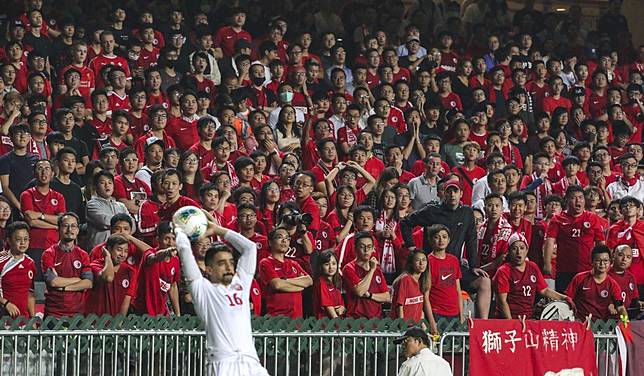 "We are witnessing more incidents like this targeting Asian players and fans as football in the region is growing. Fare has submitted a report to Fifa about this incident. Players, if found guilty of racist behaviour, can face a minimum 10-game ban according to the Fifa Disciplinary Code."
Last week, Bahrain coach Helio Souza said he did not see the gesture. "I don't know what you are talking about. We were very pleased with the crowd - they created an amazing environment for the game," said the former Portuguese international.
The Bahrain Football Association was also approached for comment.
Racism is a hot topic in global football this season, with most cases instigated by fans towards players.
In October, Bulgarian fans aimed monkey noises and Nazi salutes towards opposition English players during a Euro 2020 qualifier causing two stoppages in the first half of the match. Bulgaria Football Union president Borislav Mihaylov and first-team coach Krasimir Balakov resigned a few days later.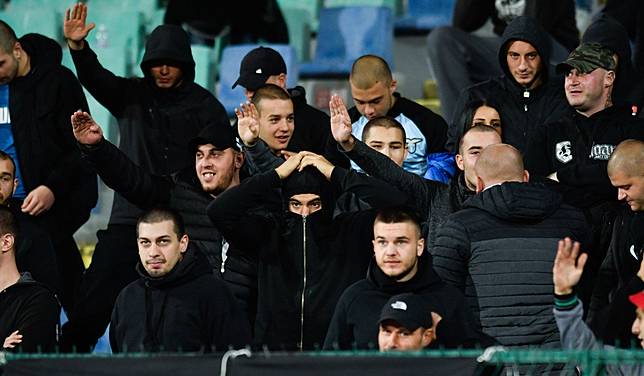 Earlier this month, Brescia striker Mario Balotelli threatened to walk off the field after being subjected to racist abuse by opposing Verona fans.
Several similar incidents have occurred in Italy's Serie A this season. Inter Milan's Romelu Lukaku was the target of more racist chanting from Cagliari fans.
Also this month, the captain of Ukrainian outfit Shakhtar Donetsk, Taison, left the pitch in tears after reacting to racist chants from Dynamo Kiev fans. The Brazilian international kicked the ball into the stands and made an offensive gesture after hearing the chants causing the referee to produce a red card after momentarily leading all 22 players off the field.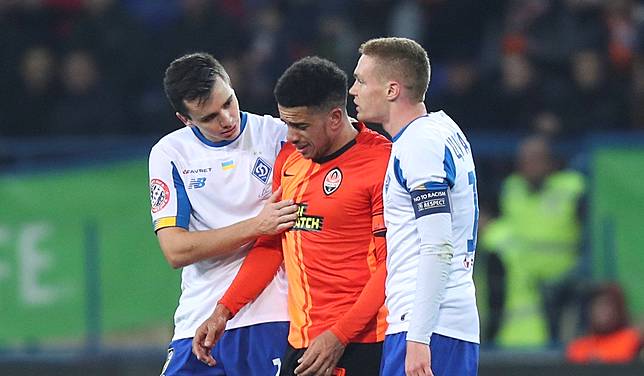 Last week, a Dutch second-division footballer for SBC Excelsior, Ahmad Mendes Moreira, was racially abused by Den Bosch fans, and the game was temporarily stopped. Mendes Moreira scored a goal following the break and celebrated in front of opposition fans.
A post shared by ESPN FC (@espnfc) on Nov 19, 2019 at 1:20pm PST
Dutch national team players Georginio Wijnaldum and Frenkie de Jong raised awareness of the issue during a goal celebration in Holland's 5-0 win over Estonia on Wednesday.
Copyright (c) 2019. South China Morning Post Publishers Ltd. All rights reserved.