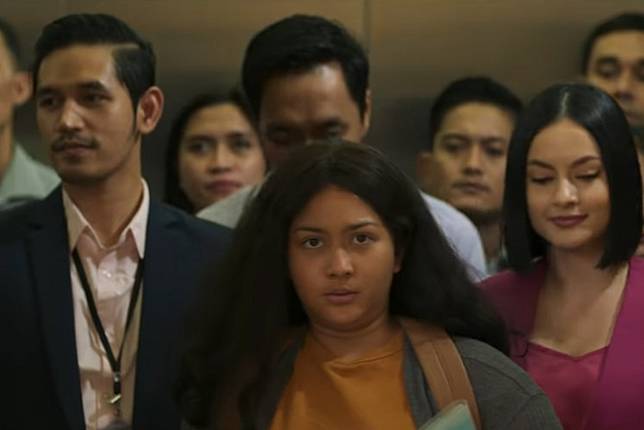 Comedian and filmmaker Ernest Prakasa released the teaser trailer and poster for his upcoming filmImperfect: Karier, Cinta & Timbangan (Imperfect: Career, Love & Scale) on Thursday.
Based on a book by Meira Anastasia's, Ernest's wife, the film is said to focus on self-acceptance.
The teaser film and poster show a huge transformation in the appearance of lead actress Jessica Mila, from slender-figured to overweight and tanned skin.
Ernest shared on his Twitter that the actress had to gain 10 kilograms to play the role of a chubby women.
IMPERFECT: KARIR, CINTA, & TIMBANGAN - OFFICIAL TEASER TRAILER!
Pertama nawarin project ini ke @Jscmila, gw blg: "Lo harus naikin berat 10 kilo ya". Krn via telpon, gw jg ga liat saat itu tampang dia gmn. Jgn2 pucet 😂. Akhirnya, inilah hasilnya. WDYT? ☺️☺️☺️☺️☺️ #FilmIMPERFECT pic.twitter.com/dpf6Z9N2HE

— #FilmIMPERFECT (@ernestprakasa) September 19, 2019
Some Twitter users expressed their surprise at seeing Jessica's transformation.
"Honestly, I'm surprised to see Jessica Mila, she's willing to be fat for Imperfect," commented @pathbingsoo.
Jujur paling kaget sama jessica mila sih, sampe rela gendut loh demi film imperfect https://t.co/LPIMMAivlQ

— ris (@pathbingsoo) September 22, 2019
Meanwhile @ashforlyfe tweeted, "Jessica Mila was willing to gain 10 kilograms for Imperfect. We need to appreciate this by asking our friends to watch the film."
Jessica Mila rela naikin berat badan 10kg demi totalitas main di film Imperfect. Harus di beri apresiasi dgn cara ajak temen2 nonton film ini pas rilis. pic.twitter.com/ReDA9toprv

— JODOH ASHTON IRWIN (@ashforlyfe) September 23, 2019
Read also: Obesity continues to haunt Indonesia despite campaign
However, not everyone is excited to see the film.
Twitter user @tasilsa shared her two cents, sarcastically commenting that she "loved" the idea that women had to "balance" career, love and scale.
just wanted to go on record that I hate this already and it's going to take a lot to change my mind pic.twitter.com/Fi0RrjmIMv

— tf (@tasilsa) September 22, 2019
@firdalarasati responded to @tasilsa's tweet, saying that she felt uncomfortable about the poster.
THANK YOU. I WAS SOOO UNCOMFORTABLE WITH THE POSTER

— Hasina ꦭꦫꦱꦠꦶ (@firdalarasati) September 22, 2019
Meanwhile @_gladhys shared her struggles with being overweight.
In a thread, she tweeted, "And [it] looks like this film, starring an originally slim-figured fair-skinned pretty actress, will try to romanticize what many fat girls struggle with. How can you make a romance-comedy about this experience?"
and looks like this film, starred by an originally slim-fitted fair-skinned pretty actress, will try to romanticize whatsoever many fat girls been struggling on. How can you romance-comedied this experience? pic.twitter.com/D9xgBzAfsV

— gladhys elliona (@_gladhys) September 19, 2019
Responding to the controversy, Ernest said that people had protested even since he announced that Jessica Mila would be the film's star.
He told his followers to be patient as the film was still in the process of being made and asked those who had objections to wait until it was released. (jes/kes)