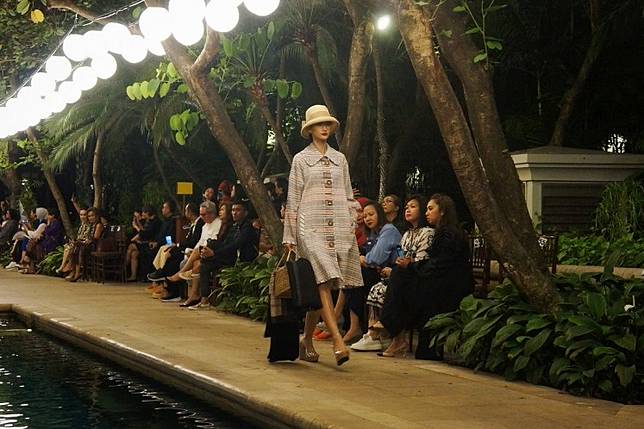 In light of National Ulos Day that falls on Oct. 17, designer Edward Hutabarat presented a collection titled "Ulos in Innovation" at The Dharmawangsa Jakarta on Friday.
"Ulos is ready to be showcased on the international stage," said Edward — also known as "Bang Edo" — at the opening of the show.
Ulos, a type of traditional fabric that is the pride of North Sumatra, should be flaunted by Indonesians, just the way we wear our batik, woven textiles and embroidered fabrics with pride, according to Edo.
"Through tonight's presentation, I want to prove that ulos is ready to adapt in order to suit all Indonesians and the international crowd alike," said Edo.
Anticipation was high for the show, with many guests seated at the four expansive sides of The Dharmawangsa's swimming pool. The poolside — all four sides of it — was that night's runway, simply lit and decorated with lanterns.
With the current trend seen on Indonesian fashion shows, where dramatic installations are often built in the middle of runways, Edo has excluded the extra task of decoration and taken advantage of the well-designed pool for a similar dramatic effect.
The first few looks presented gave the same effect as when we see a high fashion label's cruise collection, including a woman's dress coat combined with structured woven bag draped with neatly folded fabrics, a relaxed jumpsuit with oversized cape paired with wide-brimmed hat, and maxi dresses with capes, shawls and structured woven bags again.
The 50 looks that Edo presented that night also included menswear. The first few menswear pieces that appeared in the show were kimonos and samurai jackets in a monochromatic palette. Some were of dark tones, while some others could be contrasting in white with little details in red and yellow, the little details that count.
Those who have known Edo's works and had a certain expectation, could safely say that Edo delivered the same quality of work in this presentation, if not higher, as expected.
While ulos is considered as a sacred cultural item, created and used in the most important events in Batak culture — from birth, marriage, to death — Edo successfully achieved the contemporary flair of ulos that the collection aims for, which is essential in promoting ulos to a wider, international audience.
Edo's achievement of contemporary flair in his ulos works was made possible by the combination with color blocks and Javanese stripes motif lurik, the latter apparently suits ulos very well.
Read also: Batak 'ulos' paves way to receiving global acclaim on National Ulos Day
Edo also sent a message through the show, that ulos as part of a culture that is the root of a tribe, should be showcased with quality and modesty, and developed with love.
"Ulos must become part of our nation's wealth," said Edo.
"Ulos in Innovation" was a festive and heartwarming celebration for National Ulos Day, as it also involved a group of musicians playing the traditional gondang instrument prior to the fashion show, and there was a garden party serving authentic Batak food at the end.
Edo previously presented his ulos pieces in mid-October last year, in Tarutung, North Tapanuli regency, North Sumatra.