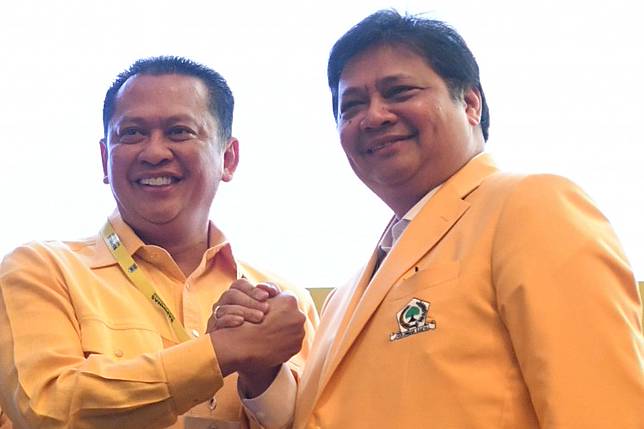 Golkar Party stalwart Bambang Soesatyo has officially declared his bid to lead the nation's second-largest party, which he said had suffered setbacks under the leadership of incumbent chairman Airlangga Hartarto.
"Golkar lost about 1 million votes compared to the previous election. This has created apprehension among [its] members in Jakarta and the regions. They are angry and believe there is something off with the party's management," Bambang said at the House of Representatives in Senayan, Central Jakarta, on Friday. 
Bambang, who is also the People's Consultative Assembly (MPR) speaker, rebuffed speculation that he would use his chairmanship in the party as a stepping stone to the State Palace in 2024, saying that the party would hold a convention to nominate a presidential candidate.
He also reiterated his support for President Joko "Jokowi" Widodo and played down speculation that the President favored Airlangga.
"I don't want to drag the President into the party's internal affairs because I believe that Pak Jokowi will leave everything to the mechanism within the Golkar Party. And I will assure you that Golkar will support Pak Jokowi until his term ends."
Bambang and Airlangga are said to have made an agreement that the former would not challenge the latter in the party's congress after being nominated as the House speaker.
Bambang, however, said that Airlangga had violated the agreement by refusing to give his supporters key positions in the House of Representatives and removing them from the committee tasked with organizing the congress.
 "I agreed to be nominated as MPR speaker with the condition that there has to be a reconciliatory move to accommodate my supporters," he said.
The politician recently claimed to have secured 367 votes from regional legislative councils and several mass groups in Golkar, including Pemuda Pancasila and the Communication Forum of Indonesian Veterans' Children.
The party is set to hold a national congress in Jakarta on Dec. 3 to 6. 
Airlangga, meanwhile, said he would try to win the election by acclamation but added he was ready to fight Bambang in a vote. He claimed that Golkar executives in 33 out of 34 provinces had declared their support for him.
There are a total of 559 votes in congress, consisting of 514 from regional legislative councils, 34 from provincial legislative councils, 10 from mass groups under Golkar and one vote from the central board.
As the second-largest party in the House, Golkar is a powerful political force that could decide the outcome of the nation's major legislative agenda in the next five years, which includes a plan to amend the 1945 Constitution. (ahw)