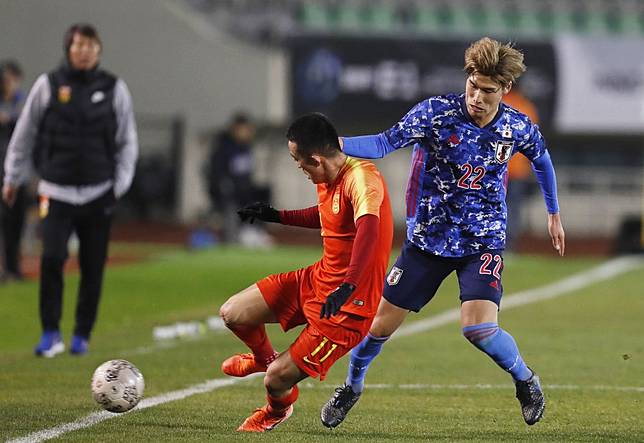 A reckless challenge by China's Jiang Zhipeng on Japanese player Daiki Hashioka at the EAFF E-1 Football Championship has sparked a media backlash in Japan and hosts South Korea.
Left back Jiang leapt in the air and launched himself towards the head of his opponent. The China defender protested his innocence but was lucky to only receive a caution from the referee, while Japan coach Hajime Moriyasu questioned the fourth official.
Jiang remained unapologetic after the game, telling media that he did nothing wrong.
"Actually, I think that, as for me, I didn't mean to hurt anyone. I didn't mean to hurt the player," he said.
"But I think in his position, he can't get to this ball. Moreover, you can also see through replays, that I touched the ball first.
"Then his head hits my foot, I do not hit him directly."
Unsurprisingly Japanese media outlets were not convinced. There was outrage at the challenge by the Hebei China Fortune defender. They were critical of the referee not sending Jiang off and described the challenge as dangerous.
The topic was the subject of much of the post game coverage in Chinese media and online portal Sina Sports, where one article joked that "Jiang had forgiven his opponent".
Many commenters on the site, which ran several stories on the challenge and Jiang's subsequent explanation, said that the Chinese player should have apologised and deserved a red card.
However, Jiang was praised by some social media users on Sina Weibo as an "anti-Japanese hero".
Korean media outlets also expressed their concern at China's playing style against Japan, when Jiang was merely the most egregious offender.
These reports were relayed in Chinese media, who reminded the South Koreans they would themselves experience the China side's robust approach soon enough. The hosts play China on Sunday night.
The Yonhap news agency reported that South Korea, who are down striker Kim Seung-dae after he broke a rib in a collision with Hong Kong goalkeeper Yapp Hung-fai during Wednesday's 2-1 win, are "bracing themselves for a physical contest against China".
"The Chinese players were pretty tough, and I expect a difficult match," South Korea midfielder Kim Bo-kyung said after watching their opening game.
Copyright (c) 2019. South China Morning Post Publishers Ltd. All rights reserved.